Dakar 2017: Hero MotoSports Team Rally's Joaquim Rodrigues moves up to 10th after Stage 8
Stage 8 of the 2017 Dakar was supposed to take participants on an 892km journey from Uyuni in Bolivia to Salta in Argentina. The competitive section was supposed to comprise of 492km, but as always with the Dakar, nothing is certain. It had continued to rain hard, which caused a river in the stage to overflow, making it impossible to cross. This forced organisers to shorten the competitive section by 68km and split it into two parts. There was also a landslide, which blocked the transport section around 200km short of Salta. This forced service crews and participants to take a 150km-long detour through the back roads to get to their destination.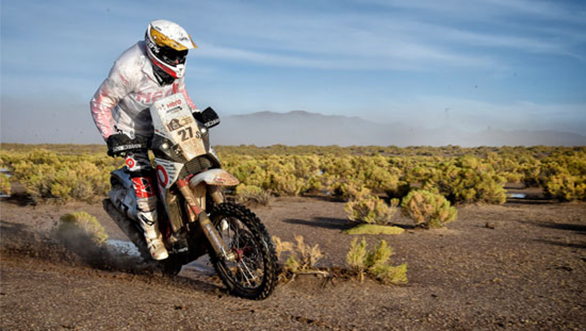 Joaquim Rodrigues managed to take an impressive 10th place overall after Stage 8
Despite the terrible weather conditions, Hero MotoSports Team Rally's Joaquim Rodrigues managed to finish the competitive section of the stage in 4hr44m57s (16m36s behind stage leader, Joan Barreda Bort) to take 16th place. This moved him up one place to an impressive 10th in the overall standings. Meanwhile, his team-mate CS Santosh completed the stage in 47th place with a time of 5hr14m01s. This helped him climb up four places in the overall standings to 63rd.