Dakar 2016: Svitko leads overall as Barreda Bort hit with penalty
Barreda Bort loses his lead in the Dakar after being hit by a penalty of 1min after Stage 3
Some post-stage penalties have meant that the order in the motorcycle category of the Dakar has been shuffled considerably. The winners for Stage 3 have now changed, as have the overall leaders.
The big loser here happens to be HRC rider Joan Barreda Bort. The Spaniard was given a 1min penalty, which moves him down the order. It means that win in Stage 3 goes to Kevin Benavides, his Argentinian team-mate. Second place in the stage now rests with his other team-mate Paulo Goncalves. However, third place goes to KTM's Antoine Meo. Barreda Bort moves all the way down to fifth in the stage, behind KTM rider Stefan Svitko.
In fact it was Svitko who gained immensely from the penalties that were dished out. The Slovakian rider now moves all the way up into the overall lead in the motorcycle class of the event. Second overall is Benavides, while Barreda Bort is now placed third overall, not something he will be pleased about.
CS Santosh ends the Stage 3 79th overall in the motorcycle standings
Indian rider CS Santosh is now classified 61st in the third stage of the event. This means that he moves up to 79th overall in the motorcycle class of the event, astride his Suzuki 450 Rally. While the Red Bull India and CEAT Tyre-backed rider has complained of trouble with his motorcycle, he does appear to be steadily climbing the order.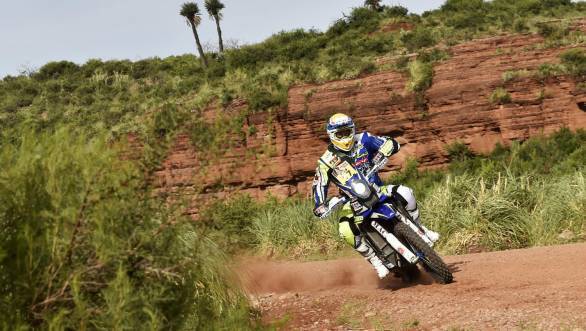 Sherco TVS rider Juan Garcia Pedrero is currently 10th overall, while his team-mate Duclos is fifth
Over at the Sherco TVS camp, too, the order was shuffled. While Alain Duclos, who finished the third stage of the event ninth, retained his spot, his team-mates weren't quite so fortunate. Spanish rider Juan Garcia Pedrero, got a 2min penalty, which moves him to 23rd on the stage. Team-mate Florent Vayssade was handed a 1min penalty, which moves him down to 33rd on the stage. In terms of the overall standings, Duclos currently retains his fifth place. While Pedrero Pedrero is now 10th overall, and Vayssade is 28th overall.