Dakar 2015: Terranova fights back but Al-Attiyah still leads car category
Orlando Terranova managed to delight his home crowd when he took the stage win at the third stage of the 2015 Dakar Rally. The Argentine clocked a timing of 2 hours 57 minutes and 28 seconds during the stage that ran from San Juan to Chilecito, clinching his second stage victory in the 2015 Dakar Rally. The Mini driver won this stage on sheer pedal power, however, unlike his Stage 1 victory which he gained by virtue of Nasser Al-Attiyah being handed a time penalty. Also putting in a good performance during the third stage were the two Toyota drivers. Giniel de Villiers finished second, while Yazeed Al-Rajhi finished the stage third.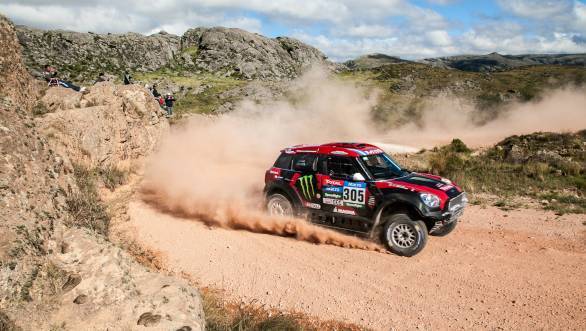 Orlando Terranova on his way to his second stage win at the 2015 Dakar Rally
Terranova's performance means he currently lies third overall in the cars category of the event, behind Giniel de Villiers. However the man still at the top of the standings in the cars category is Nasser Al-Attiyah who currently pilots a Mini for the Qatar Rally Team. Overall, Al-Attiyah has a five minute advantage over his nearest rival.
On two wheels, the third stage of the Dakar packed a powerful surprise. Dakar debutant Matthias Walkner took a commanding stage win, ahead of Marc Coma who was 40 seconds adrift. Joan Barreda Bort was third in the stage. This didn't upset Barreda Bort's stronghold on the overall motorcycle standings, though, with the rider still sitting pretty at the top, followed by Honda rider Paulo Goncalves and KTM's Walkner.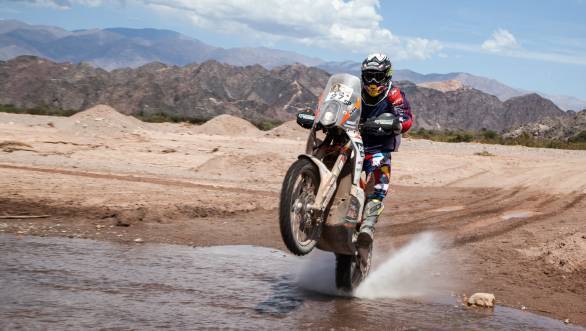 Austrian rider and Dakar debutant Matthias Walkner made a mark by taking the win in Stage 3 of the Dakar 2015
The stage win in the quad category went to Lucas Bonetto, while  Sergio Lafuente leads the class overall.
Second in the stage and third overall for Kamaz's Andrey Karginov so far at the 2015 Dakar Rally
The truck class of the event saw a strong performance from Kamaz, with Airat Mardeev and Andrey Karginov finishing first and second, followed by Iveco's Gerard de Rooy. Overall, Mardeev leads the class ahead of Man's Ales Loprais, with Karginov third.
Photo credit: Shakedown Team