Dakar 2015: Marc Coma plays catch up, wins Stage 5
The battle in the motorcycle category of the 2015 Dakar just got very interesting. Marc Coma, reigning Dakar champion, has been trying hard to keep up with the rest of the riders thus far. But the KTM rider stamped his authority on the fifth stage of the event, winning the stage in style. The rider had a stage time of 4hr 38min 15sec, which put him comfortably ahead of second place man, HRC's Joan Barreda Bort. Finishing third was the other KTM rider Pablo Quintanilla, who has been slowly but surely coming into his own at the 2015 Dakar.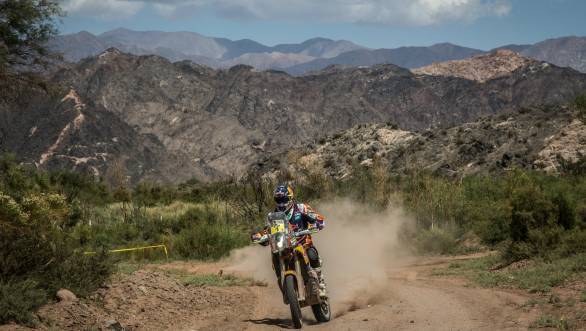 First stage win for Marc Coma at the 2015 Dakar
At the head of the motorcycle standings after Stage 5 is Barreda Bort, still looking in command, although Coma is beginning to chip away at his lead, now cutting it down to 10 minutes. Paulo Goncalves is third in the standings.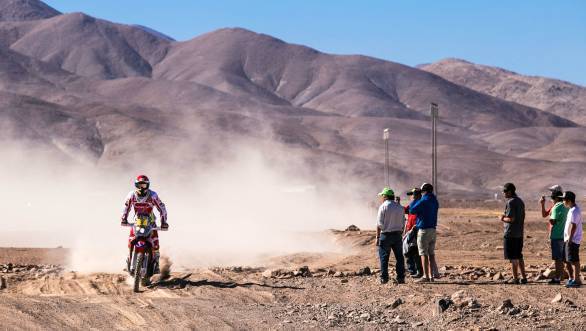 Joan Barreda Bort still leads the motorcycle class of the 2015 Dakar Rally
The car category of the event saw more dominating performances from the Dakar Minis. This time it was Russian driver Vladimir Vasilyev who won the stage that led from Copiapo to Antofagasta, ahead of Yazeed Al-Rajhi and Robby Gordon. Nasser Al-Attiyah drove a steady stage, putting himself fourth in the stage, allowing him to continue his lead in the car category. Second to him in the standings is Toyota driver Giniel de Villiers, with Al-Rajhi third.
More strong performances from Mini with Vladimir Vasilyev taking victory at Stage 5
Over in the truck category, it appears to be a battle between the Kamaz team-mates. This time it was former truck category winner, Eduard Nikolaev who took a commanding stage win, pipping his team-mate at the head of the standings too. Nikolaev beat Airat Mardeev and Siarhei Viazovich to the stage win. He now leads overall, with Mardeev second and Man driver Ales Loprais third.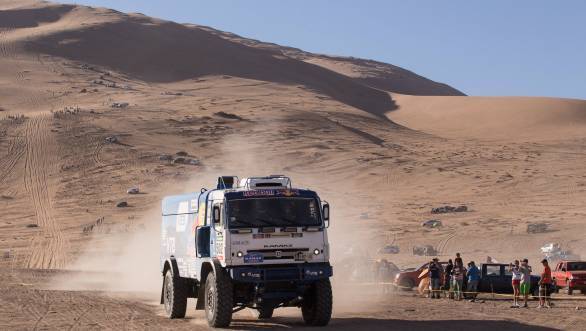 Eduard Nikolaev took stage win and moved into the lead of the truck standings
In the quad category it was Rafal Sonic all the way. The Polish quad rider took a fine first place in the fifth stage of the event, and extended his lead over rival Ignacio Casale in the standings.
Unstoppable looks Rafal Sonic at the 2015 Dakar
Photo credit: Shakedown Team