Dakar 2015: Duclos puts Sherco TVS eleventh overall in motorcycle category
Alain Duclos is described on the official Dakar website as the "best amateur in the field". Well, if this is the case, he's giving some of the pro riders a proper run for their money at the 2015 Dakar Rally. One of the reasons the Sherco TVS Rally Factory Team decided on the Bourdeux based Frenchman to pilot one of their motorcycles in the Dakar this year was because of the fact that he was likely to help them in terms of developing the motorcycle, something that Duclos is rather confident that he has done well.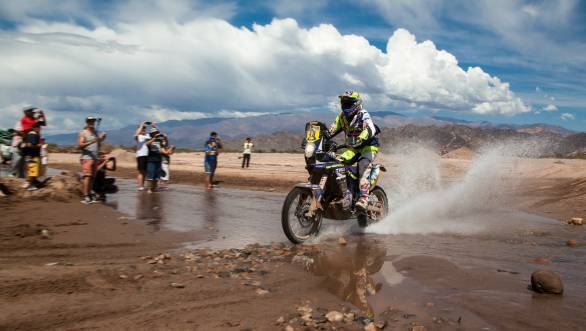 Sherco TVS rider Alain Duclos powers through to eleventh overall on two wheels after the third stage of the 2015 Dakar Rally
While he surprised people by taking the RTR 450 to a top five finish at the end of the first day of the 2015 Dakar, on the stage that ran from Buenos Aires to Villa Carlos Paz, for the second stage, things weren't quite so easy. Duclos could only manage to finish 12th in the second stage and overall in the motorcycle category too. However, things looked up for the rider of the No.14 Sherco TVS during the third stage that ran from San Juan to Chilecito. Duclos was able to finish the stage with a timing of 2 hours 37 minutes and 39 seconds, 3 minutes and 11 seconds off the time of the stage leader Matthias Walkner. This puts the Sherco TVS rider eleventh overall in the motorcycle class after three stages have been completed.
Over to the No. 25 Sherco TVS. Fabien Planet has only one year of Dakar experience under his belt, having competed in the event in 2007. However, for his return to the rally, the rider is playing it safe. Well, it appears to be paying off, with the Frenchman finishing the third stage 26th, putting him 25th overall in the motorcycle category.
So far, it's been good and rather consistent running at the Sherco TVS Rally Factory Team's first attempt at the Dakar Rally.
Photo credit: Shakedown Team