Dakar 2015: Disaster strikes Sherco TVS on Stage 9
The Sherco TVS Rally Factory Team has been doing consistently well in the 2015 Dakar Rally. While Alain Duclos has managed to finish in the top 10 on a regular basis, and his team-mate Fabien Planet has managed to finish stages between 20th and 25th, the duo found themselves running as high as seventh and fifteenth overall. But the Dakar is not an easy race. And after dealing with the treacherous salt flats in Bolivia which were punishing on the motorcycle, the riders found themselves having to contend with the vagaries of the Atacama Desert.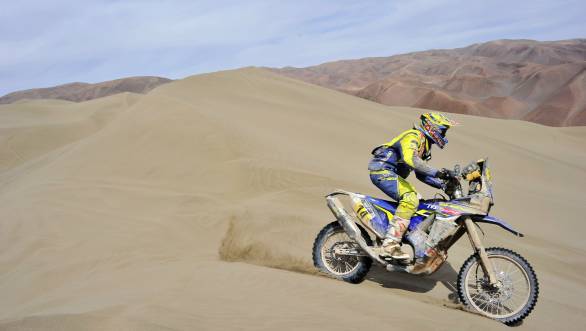 Alain Duclos loses out his his top 10 place, finishing 71st in the stage due to mechanical trouble
And it was here that the Dakar took on a whole new dimension for the two Sherco TVS riders. While mechanics at the Sherco TVS Rally Factory Team had worked hard to ensure that the motorcycles were up and running, Duclos' RTR 450 ground to a halt with mechanical trouble after 258km and the French rider was forced stop and attempt repairs on his motorcycle. He was soon joined by his team-mate Planet, who was willing to sacrifice his own finishing position at the Dakar in order to help his team-mate - proof that camaraderie and team-spirit really is part of this grueling rally raid.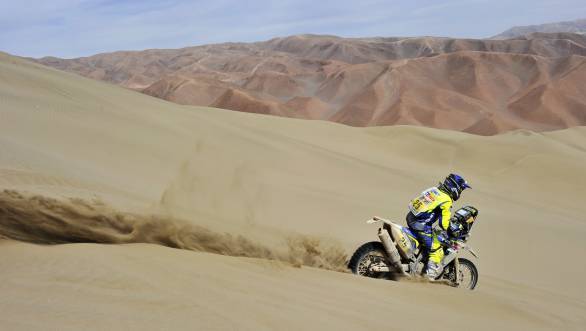 Team-mate Fabien Planet who stopped to help Duclos finished the stage 67th
Of course, the breakdown put paid to any hopes that the two riders had of podium finishes or top 10 finishes, and now the duo are trying hard to just complete the Dakar Rally. Duclos is currently 22nd overall while Planet is 32nd overall in the motorcycle category.