Dakar 2015: Alain Duclos puts Sherco TVS in the top 10
The two Sherco TVS Rally Factory Team motorcycles have certainly been impressive in the first four days of the Dakar. Riders Alain Duclos and Fabien Planet have been running consistently well, with Duclos running as high as fifth at one point in the rally, while Planet has managed to maintain his position in the twenties all through. Going into the rally Duclos had stated that he was confident in terms of the development that they had carried out on the RTR 450, which is the motorcycle that has resulted as a collaborative effort between French motorcycle maker Sherco and Indian motorcycle manufacturer TVS Motor Corp. And that he was right to be confident is evident in the performance that the two riders have put in.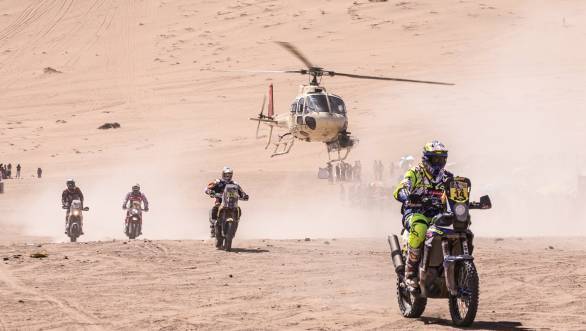 Duclos with other riders trailing behind him at the stage from Chilecito to Copiapo at the 2015 Dakar Rally
During the fourth stage of the Dakar, running from Chilecito to Copiapo, Duclos was seventh fastest on his Sherco TVS, clocking a stage time of 3 hours 40 minutes and 19 seconds. This was 12 minutes and 51 seconds behind that of stage leader Barreda Bort, however, still enough to maintain a top ten position overall for the French rider. After the fourth stage Duclos finds himself ranked ninth overall in the motorcycle category of the Dakar.
Fabien Planet finished the fourth stage 26th, almost 25 minutes adrift of the leader. His performance however means he still is ranked 24th overall in the motorcycle category.
Before entering the Dakar with Sherco, TVS had stated that they were approaching the entire operation as an R&D exercise in addition to a sporting exercise, and one can only imagine the sheer volume of data that the company will gather after a rally as punishing on a machine as the Dakar.
The riders now head from Copiapo to Antafagasta for the fifth stage of the Dakar.
Photo credit: Shakedown Team