CS Santosh set to get back in the saddle at the 2017 Merzouga Rally
It was one year ago that CS Santosh competed in his very first event for the Hero MotoSports Team Rally outfit. Which meant that after having struggled heroically through two Dakar rallies as a privateer, Santosh finally had a factory team backing him in his off-road rally-raid pursuits.
CS Santosh is ready to get back in the saddle for Hero MotoSports Team Rally at the 2017 Merzouga Rally in Morocco
Now, exactly one year later, Santosh is set to compete in the Merzouga Rally, his second go at this event with Hero MotoSports Team Rally. The Indian rider will be taking to his Speedbrain 450 Rally motorcycle after a bit of a gap, having had to sit out the India Baja after sustaining an injury at the 2017 Desert Storm. "I have made immense progress in the past couple of months and I am glad to be back here with the team. I have been training with some great people and working on all the aspects, be it body or mind or motorcycles. However, I am going into the Merzouga Rally with the expectation of learning and having a great time being back to racing on my bike," said Santosh.
Meanwhile, Santosh's team-mate, Joaquim Rodrigues, or J-Rod as he's affectionately known, will be looking to do extremely well, given that he recently won the India Baja in Rajasthan just a month ago.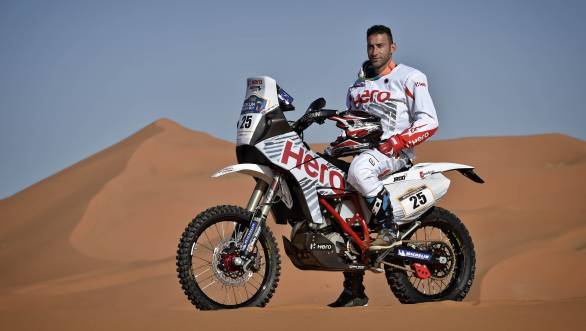 Joaquim Rodrigues is hoping to perform strongly at Merzouga, having recently won the 2017 India Baja
The Merzouga Rally, like the recently concluded India Baja, is also a part of the Dakar Series. The event, now in it's eighth edition, will be held over the course of six days in Morocco. It will include 1200km of fully off-road special stages. A total number of 145 vehicles will make it to the Merzouga Rally this year - that includes 88 motorcycles, 23 quads and 34 SidebySide. A total number of 178 competitors will start the rally.
Speaking just ahead of the Merzouga Rally, Dr Markus Braunsperger, Chief Technology Officer, Hero MotoCorp Ltd., said, "Merzouga Rally will offer a good platform to evaluate the physical and technical strengths of the team, so that necessary course corrections can be made, if any, for the Dakar 2018. It has just been a year since the formation of our team and we are excited by the impressive performances so far. We are looking for another 100% finish rate this year."
Meanwhile Wolfgang Fischer, team manager of Hero MotoSports Team Rally said, "We are excited to be back in full strength. Santosh has recovered well and it's good to see him on the bike again; JRod is in good form. All the team members, the bikes, spares and assistance vehicles have arrived in Morocco and the final preparations are underway."