CS Santosh on feeling "professional" again…
It's been another day of riding motocross in Spain for CS Santosh. He's been training hard in his quest to do a lot better at the 2017 Dakar Rally, than he did last year. And, in between his busy dune bashing sessions, he managed to take a little time out to have a conversation with us. In fact he stopped long enough to let us know that as he approaches his third Dakar Rally, "the overall feeling is good."
Who can blame him, after all, he's finally got what he's been longing for the past few years. A factory ride, where his sole job is to go outdoors, spend time training for cross country rallies, and giving it his all. In fact, it's the reason Santosh says he feels like he's professional once again. "The last time I was professional was when I was riding for TVS, which was five years ago, when all I did was train and race the motorcycle." Since then, it's been a difficult time. Carving his own path in cross country rallying, fending his way through his first attempt at the Dakar Rally back in 2015 astride a KTM, and then astride a Suzuki, spending a lot of time off the motorcycle. "Back then, I probably just rode the bike before the race. Now I've gone back to feeling like a professional, where I am constantly riding and training. So, mentally, for my confidence, it's everything," he says.
And, Santosh, by his own admission, is one of those individuals who really needs to work hard to feel good about the progress he's making. Having a factory ride, has been just the right medicine then. Today his job involves waking up every morning and training. In fact he even feels like there aren't enough hours in the day for the amount of training that he'd like to put in, he says.
"I mean there's so much to do. I get up in the morning, and I have a roadbook that I go out with for three or four hours. Or I go out and ride motocross in the morning. And then it's training on the bicycle. I put in a lot of kilometres on the bicycle," Santosh says.
It's these three principal activities that are key to preparing for the Dakar Rally. The roadbook is a challenge that he needs to tackle if he hopes to be able to navigate successfully, with no mistakes spoiling each day's ride. "There are times when you go out with the roadbook and it's so frustrating, cause some of the notes don't match and you don't have the right feeling," he says. But dealing with these frustrating situations can also help with mentally preparing for the Dakar itself.
Then there are those long hours of motocross riding, with trainer Daniel Hernandez, who also trains the likes of World Enduro Champion Ivan Cervantes. "It's so important to have motocross training. All the fast guys are really, really good at motocross. You ride 20min, 30min, 40min Motos as practice and there's nothing more demanding than riding motocross," Santosh says. But it isn't the only way to expend energy, at a similar level that the Dakar will consume it. Which is why training on the bicycle is also important.
CS Santosh, the first Indian to compete in the Dakar Rally, will ride for the team
According to Santosh, it's also a combination of the three forms of training that can help prepare one properly for the Dakar. After all, during the entire eight hours of riding, you aren't riding on the limit all through. But during the short bursts when you are riding at the limit, you need to be all there. "Mentally, you need to be sharp during those short durations, cause anything can catch you out. One second you lapse, you might hit a rock, because off road you never know what can happen when you're just reading the road book and going as fast as you can. That's the scary bit," he declares.
But one of the things that has made the year 2016 so special for Santosh, is the way the Hero MotoSports Team Rally, jointly operated by Hero MotoCorp and off-road specialists Speedbrain GmbH, have treated him. "The motorcycle is available for me to ride all the time. And there is a status in the team where they treat me on par with Joaquim Rodrigues. You know, I'm just this Indian guy who's got this fabulous ride with this team - one of the best teams in the world. And they treat me on par with him. For me it's incredible, that feeling. And it's really helped with my confidence as well. The team is always looking to help me feel more comfortable on the motorcycle."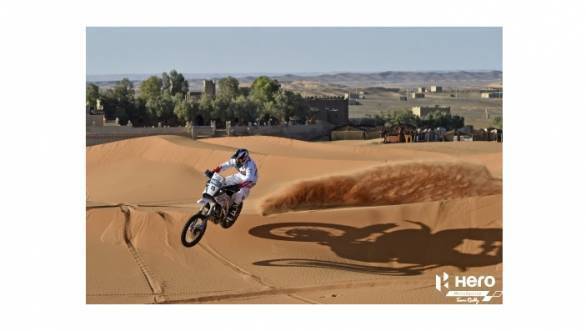 CS Santosh prepares for the Merzouga Rally astride of the Speedbrain 450 Rally bike
Santosh says the main expectation from the factory in their first year is to just finish the Dakar, with anything above that being a bonus. While they aren't putting pressure on him at all, they do keep track of what he's up to. "Right now, my progress is only monitored by Wolfgang Fischer (the team's managing director). He's sent me a spot tracker. It monitors your location wherever you are. So whenever I go out to ride, I turn it on. And during the day he just watches me. It's cool for him to be interested in what I'm doing," says Santosh.
Doesn't this put a certain amount of pressure on him, though? Santosh laughs. "I often wonder 'Is this pressure?' or 'How am I supposed to perform?' And then I think about it and realise I'm one lucky guy to be able to do this. People dream of this. I'm just out here to have the best time of my life - that is to race dirt bikes, and race cross country rallies, and if I can do that at a level that I enjoy, nothing like it," he says.
And what is that level that he would like to perform at? "For me it is an obsession to be able to go fast. But whenever you think of going fast, you think of those guys who are winning the Dakar. It's not something you can achieve by just twisting the throttle, it's more than that," he says. Which is why he's focussing on finishing in the Top 20 at the Dakar 2017. It isn't going to be easy though.
"To run Top 20, you've got to be consistently doing that every day, every stage. Also, I think I need to start up in front. In a rally like this, when the first 10-15 bikes go the track is pretty good. After that it starts to get really dusty. If you go through fesh fesh and you go through the dunes and stuff, the bikes that come at the back are at a disadvantage. There are so many tracks, it gets really beat up. I think to ride inside Top 20, also involves pushing the mental barrier. I know what kind of speeds I need to do, cause I've trained with some of these guys here. I'm hoping to achieve those kinds of speeds. Let's see how it goes," he says.
And in this pursuit of speed Santosh has had more than his fair share of crashes. Ones that he's been lucky to walk away from unscathed. He's been lucky. And as far as he's concerned his luck has extended to more than just these narrow escapes, but instead to the whole situation that he finds himself in with Hero today. "I think I'm one of the luckiest guys I know in the world. And with my luck, and a good bike, and the team, it should be possible."
But before he rides at the Dakar 2017, there's the Oilibya Morocco Rally to tackle. "Morocco is the final test. Morocco is also quite dangerous. Because if you get hurt in Morocco it's also not enough time to recover. So I guess everybody rides, but everybody also thinks of the Dakar. So it's testing the bike and set up. That's what I'm going to do as well," Santosh says, while also declaring that a Top 15 finish at Morocco is what he's aiming for.
Beyond Morocco lies the Dakar Rally then. A rally that he's been preparing for, at this level, for years. Every past attempt at the event, has led him to this moment, where he finds himself better equipped than he's ever been, to take on the dreaded dunes. And he's pictured every possible scenario to help him perform his best. "Whenever I ride, I try and visualise what could happen. You've got to envision all the difficulties that you could face. All the struggles. You've got to envision overcoming them. And also envision the parts where you have good days, and mentally you've got to prepare for that."
Preparation, opportunity, and luck. It looks like CS Santosh, for once, has all three on his side. Now to see how it all plays out.