Could the next Audi R8 be a 760PS all-electric supercar?
There have been rumours that the Audi R8's current mid-engined V10 layout is becoming unviable for the company and that it was looking to discontinue the car after this generation, given the shifts in the current automotive landscape. The second generation's less than ideal sales success have also played a part in Audi thinking in this direction.
Audi PB18 E-Tron concept
But the showcasing of the Audi PB18 E-Tron concept at the recently held Monterey Car Week could provide a glimpse at what the future holds for Audi's flagship supercar. The PB18's all-electric drivetrain seems like an ideal fit for a flagship supercar. Further, the shooting brake styling and lack of autonomy shows this to be a project which has been undertaken with a strong focus on enthusiasts, a trait on which the R8 scores higher than most other Audi performance cars.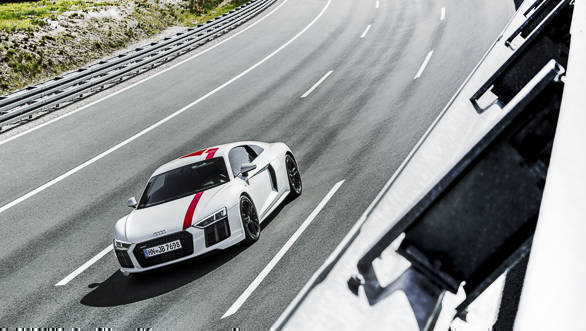 The second generation Audi R8 has been on sale since 2015
If this were to be true, we can expect the next generation R8 to make its debut in about four to five years time and feature a power figure of around the 764PS mark. It will most likely also carry the PB18's three-motor set-up. That is two electric motors on the rear axle and one on the front fed by a mid-mounted 95 kWh battery pack. The car should be able to do 500 km in a single charge and get from 0 to 100 in a hypercar-beating 2.0s.
But this doesn't necessarily mean the end of the road for this V10 motor. The Lamborghini Huracan replacement will most likely carry on with a reworked version of this engine, albeit paired to an electric motor for added driveability, efficiency and power. The recently seen Lamborghini Terzo Millennio concept is all-electric, but that is being touted as a replacement for Lamborghini's flagship V12 hypercars.
Price (Ex-Delhi)
Starts Rs 2.55 Crore
Price (Ex-Delhi)
Starts Rs 3.21 Crore