Corornavirus impact: MG Hector ambulance donated to healthcare services
MG Motor India has donated an MG Hector SUV that has been retrofitted to turn it into an ambulance to healthcare authorities in Vadodara. The company finished this conversion in 10 days with the project being handled by MG India's engineering team at Halol, in partnership with Ahmedabad-based Natraj Motor Body Builders.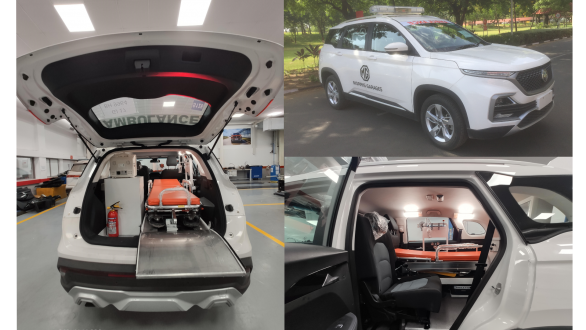 The Hector was turned into an ambulance by removing the rear seats and replacing it with a pedestal. An auto-loading stretcher is fitted behind the driver while the smaller rear-seat has been swivelled 180 degrees and fitted behind the co-driver, to seat the attendant. There is enhanced interior lighting, a medicine cabinet with five parameter monitor, an inverter with battery and sockets, medical equipment and a fire extinguisher. Externally, a roof-mounted light bar with siren and amplifier, and ambulance stickering have been added.
This is the latest among a slew of initiatives that MG Motor India has taken to fight COVID19 in India. The company has partnered up with Vadodara-based MAX Ventilator to increase ventilator production to a 1,000 units a month. Earlier, the company announced it will provide 100 Hectors to health force workers, government authorities and local government officials to travel safely across the country until the end of May 2020.
Stay tuned to OVERDRIVE for all the news related to the automotive industry during the COVID19 pandemic
Price (Ex-Delhi)
Starts Rs 12.74 Lakhs