Coronavirus impact: Toyota will resume production from May 26
Toyota will resume manufacturing operations at its plant in Bidadi from May 26 in a phased manner, to reduce the risk of contracting the Coronavirus. The company will adhere to all safety guidelines and precautionary steps directed by the government and local authorities. The company will closely monitor the situation and then gradually start working at full capacity. Over 290 dealerships and 230 service stations are functional across the country that cater to the needs of existing owners and potential customers during these unprecedented times.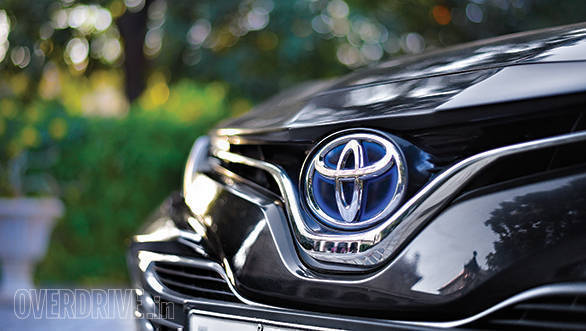 Raju B. Ketkale, deputy managing director at Toyota Kirloskar Motor, said, "We are thankful to the government for resuming operations of industries. We would also like to express our heartiest gratitude towards our supplier and dealer partners, as well as our trusted employees who have worked very hard to help us resume operations. While restarting operations we have deliberately been very circumspect to take some more time, owing to the fact that we wanted to take extra precautions so as to ensure that both the workplace and its surrounding are safe for us to resume work. The physical and mental well-being of our employees is of utmost importance to us and we do not want to jeopardise the same at any cost. As you are aware, we have come up with a revised set of guidelines to work by and we have been rerunning the 'Restart Manual' to ensure successful implementation of the same, before our workforce resumes office. In order to minimise the number of employees at the workplace, most of our office employees will still continue to work from home for some more time."
He added, "As a part of our recommencement approach, we have also introduced various safety initiatives at our dealerships, keeping in mind the safety and well-being of our dealer staff, who are at the front line as well as our customers. Additionally, we have started operating our service outlets so as to be able to support our customers with any of their service and spare parts requirements. Toyota Kirloskar Motor places highest priority to the safety and well-being of its stakeholders by adopting the 'Safety and Health First' approach, and has taken every necessary precaution before restarting operations."
The company has also extended its support to help fight the pandemic in many ways, the company took the responsibility of ramping up the production of face masks and other PPE equipment for the frontline workers. The company also provides 1,000 essential kits to daily wage workers who were suffering because of the sudden lockdown and each kit included 20 food items and other essentials. And the company recently launched a customer connect program that focusses on facilities and services for the customers like free maintenance service, roadside assistance, extended warranty and prepaid maintenance package for up to two months.