Coronavirus impact: Toyota offers special services
Toyota has announced the addition of two new service offerings for the customers during these unprecedented times. The company has rolled out Flexible EMI Option and 'Toyota Official Whatsapp' to support customers and reduce difficulties in the purchase of a new Toyota vehicle for potential buyers and burden-free servicing for existing owners.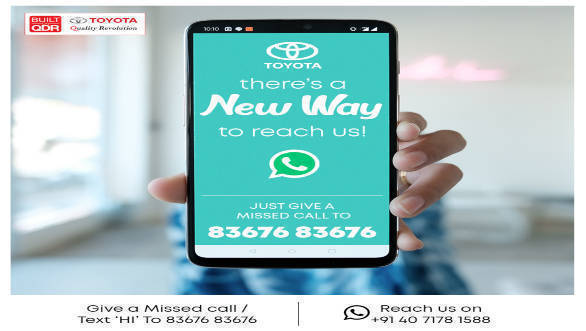 The Flexible EMI Option provides quick and burden-free ownership of a Toyota vehicle, customers can opt for EMI options starting as low as three months to nine months and so on. This EMI scheme also comes with attractive benefits like low rate of interest and in some cases 100 per cent processing fee waiver.
The 'Toyota Official Whatsapp' allows the service stations and dealerships to reach the customer's fingertips at their convenience and comfort. Customers can give feedback, enquire about products and get other details regarding car purchases without leaving the comfort of their homes.
Naveen Soni, senior vice president of sales and services at Toyota Kirloskar Motor, said, "We would like to sincerely thank all our customers for their support and understanding during this difficult time.  We understand the criticalities of the situation and as a brand that puts customers at the heart of every transaction, we have curated special convenience initiatives that will ease the vehicle owning process. Our new EMI schemes will provide easy, flexible and convenient payment options ensuring the best buying and servicing experience for our customers. We are also happy to announce the launch of  'Official WhatsApp channel', one of the most preferred modes of communication by all of us due to its ease of usage, which will create a seamless and omnichannel customer experience."
The company had also launched the 'Customer Connect' program for the customers as an aid during these difficult times, it covered service packages like extended warranty, free maintenance service, roadside assistance and SMILES pre-paid maintenance package and so on.
In line with the social distancing guidelines set by the government and authorities, the company digitised its sales process by providing 360-degree product views, online financing options and quotations. And as the dealerships, service stations and manufacturing plants resumes operations across the nation, they all are adhering to social distancing protocols and safety protocols issued by the company to ensure the safety of the employees as well the customers.