CES 2020: Mercedes-Benz unveils Avatar-themed Vision AVTR concept car.
Mercedes-Benz unveiled its latest Vision concept car, the Mercedes-Benz Vision AVTR at CES 2020. The Vision AVTR stands for Advanced Vehicle Transformation. The concept car draws inspiration from the 2009 blockbuster movie, Avatar. The car shows a completely new interaction between human, machine and nature through innovation and sustainability.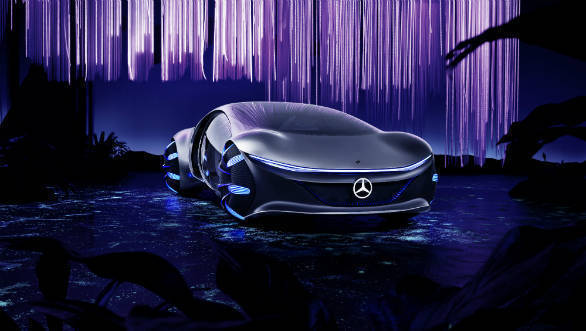 The futuristic car's chassis is based on the "One Bow" structure and instead of a conventional steering wheel, the multifunctional control element in the center console allows the driver to steer, accelerate or brake. The console also recognises the driver by their heartbeat and breathing. This is how the Mercedes engineers pulled inspiration from the world of Pandora - the human and machine merge to be one.
The interiors consist of a curved, single panel of display with a projected menu that allows the passenger to go through menus with a raising, shift, and closing of a hand, along with interacting with the fictional world of Pandora from different perspectives.
The Vision AVTR uses a revolutionary battery technology based on graphene-based organic cell chemistry that is free of rare earths and metals. The materials of the battery are compostable and therefore recyclable, thereby making electric mobility independent of fossil resources.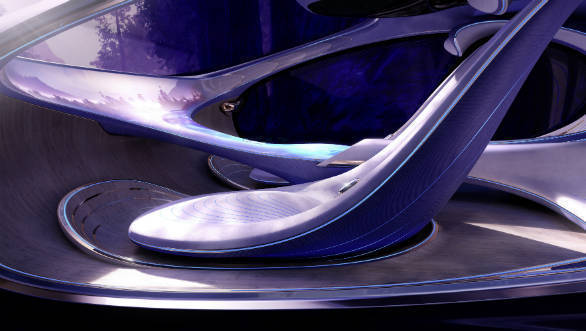 The seats of the Vision AVTR are finished in vegan Dinamica leather. The floor is designed with an innovative wood called Karuun. The raw material for Karuun grows very fast as a natural raw material and is harvested by hand in Indonesia.
The 33 multi-directionally movable surface elements or "bionic flaps" on the back of the vehicle are an implication of scales of reptiles. They can communicate with the driver and the outside world through naturally flowing movements in subtle gestures. Due to the possibility to drive the front and rear axles in the same or opposite direction, the Vision AVTR can move sideways by approximately 30 degrees. The so-called "crab movement" gives the concept vehicle an animal-like appearance even in its movement.
The Vision Avatar produces 470PS and offers an estimated driving range of upto 700 kilometres.