CES 2020: Hyundai showcases flying car concept with Uber
Hyundai and Uber have announced a new partnership at CES 2020, through which the ride-hailing firm's upcoming air taxi initiative will use a 'flying car' developed by the Korean firm. The Uber Air Taxis will encompass a future aerial rideshare network, which Hyundai has joined with its S-A1 personalised air vehicle, presented in Las Vegas in concept form.
Uber Elevate, the firm's arm behind this initiative, has taken a NASA-inspired open design process. Through this, vehicle design concepts are released publically so that any company can use them to develop their own air taxi models and other technologies. The S-A1 design optimises an electric vertical take-off and landing (eVTOL) aircraft for aerial ride-sharing purposes. This aircraft will be 100 per cent electric, and will utilise a distributed electric propulsion system. This system will consist of multiple rotors and propellers around the airframe, helping to improve safety by decreasing the effect of any single point of failure. These smaller motors also reduce noise compared to larger combustion-driven motors.
The S-A1 will be able to take off vertically, transition to flying like a regular aeroplane while cruising and then switch back to vertical flight while landing. The aircraft will be manually operated to begin with but autonomous capabilities will be added eventually. The cabin will accommodate four passengers. It will be able to cruise at up to 290kmph, at an altitude of 1,000-2,000 feet (300-600m) above ground, and have a 100km range.
Through this partnership, Hyundai will produce and deploy air vehicles. Uber will provide airspace support services, connections to ground transportation, and customer interfaces through an aerial ride-share network. Both firms are also infrastructure concepts to support the take-off and landing duties of these devices.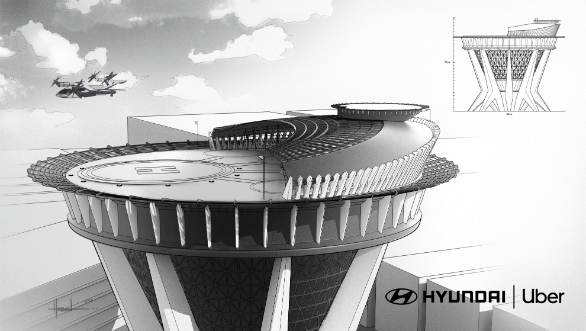 Uber is hoping to make these flights possible by 2023. The company's analysis suggests that eventually, the cost of these Air Taxi rides could drop to what a regular Uber ride costs. To achieve this goal, aside from Hyundai, the firm is also co-operating with companies like Aurora Flight Sciences (now a subsidiary of Boeing), Bell, Embraer, Joby Aviation, Pipistrel Aircraft, Karem Aircraft and Jaunt Air Mobility. For the infrastructure to support these flights, it is working with Hillwood Properties, Related, Macquire, Oaktree and Signature. It has also signed agreements with NASA to develop unmanned aerial traffic management systems.