CES 2019: Mercedes-Benz Vision Urbanetic is a ride-hailing lounge
While the new CLA was the show stopper for Mercedes-Benz at the 2019 CES, there was also the Vision Urbanetic concept car that attracted a bit of attention of the show-goers. It certainly wasn't the prettiest concept car in the show, but its cabin has some interesting elements.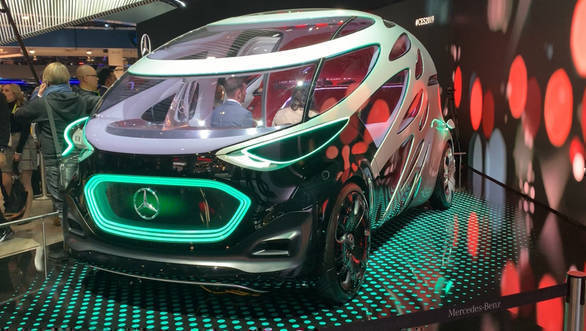 The exterior reminds us of Zod (of the Superman fame), and that egg-shape also allows for a panoramic seating concept inside the cabin for a lounge like experience. Interestingly, the seats do not have any seatbelts. On the upper half of the cabin and right below the roof shell is a circular panoramic display to provide in-car infotainment for all occupants.
Since this is a concept car displayed in Vegas, the display had a Russian roulette theme running, and on the road, it could display other thematic graphics, weather, transit information, news, and pretty much anything that you can imagine on a ticker display. Mercedes-Benz not only shocased the Urbanetic at the CES, but also offered fully autonomous drives in certain geo-fenced locations of Las Vegas. Unfortunately, we missed out them, since we very busy getting a similar experience in a current-generation Mercedes-Benz van with autonomous driving capability enabled by ZF.
The Urbanetic is a ride-hailing pod that is classified under Mercedes-Benz Vans division and is foresight into the kind of shared mobility platforms that the carmaker will offer in the future. In theory, it uses connected technologies of tomorrow and operates on a supply and demand principle - meaning that the frequency of these pods and the routes they take can be altered as per the real-time demand. Out on the road, the Urbanetic uses the lighting elements on its bodywork to warn pedestrians and cyclists of its arrival and at the same time negate any anxiety by displaying their outline patterns to signal them that they have been safely identified by the autonomous driving sensors. With its silent electric operation, these Urbanetic pods can also be used as delivery vehicles for noiseless operation in the urban areas.