CES 2019: BMW R 1200 GS autonomous motorcycle showcased
BMW Motorrad showcased a unique offering at the ongoing CES 2019 show. The German automobile manufacturer brought a self-riding motorcycle, the R 1200 GS that can basically start, accelerate, perform cornering maneuvers, slow down, and come to a stop – all by itself. BWM Motorrad mentions that the development of this test vehicle will provide valuable insights into riding dynamics, which can then be used to help the rider recognize dangerous situations and master difficult driving maneuvers. In this way, the self-riding motorcycle, with its comprehensive understanding of ideal lines and perfect cornering, correct braking point, and traction-optimized acceleration, can help the driver constantly improve their skills.
The autonomous tech that is being showcased in the BMW R 1200 GS self riding motorcycle does not intend to remove the need of a rider. It instead wants to offer a safer riding experience to the existing riders as well as make it more convenient and easy for the new riders. This will help bring down the half of the causes that leads to motorcycle accidents due to riding error. Emergency braking and turning in intersections are some of the prime areas where BMW Motorrad will be focusing with this tech. The company believes that most of the hardware such as gyroscopes and other sensors related to safety are already offered on its motorcycles, it just needs to be mated with software support and that will not add considerably add to the overall cost of the motorcycle.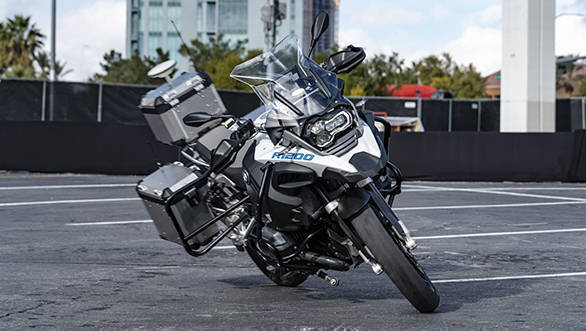 It is being said that features like adaptive cruise control and pre-collision emergency braking will be offered on the larger BMW GS motorcycles first. This will be then followed by their introduction in the smaller motorcycles. BMW Motorrad hasn't given any timeline for the introduction of these features in its range yet.
Price (Ex-Delhi)
Starts Rs 19,30,000