CES 2016: Audi showcases piloted driving, virtual cockpit and Fit Driver tech
Audi's theme for the 2016 CES is 'piloted, electrified and fully connected'. The company showcased technologies that focus on these three trends which will be the future of Audi's vehicles and the automobile industry itself.
Audi's virtual cockpit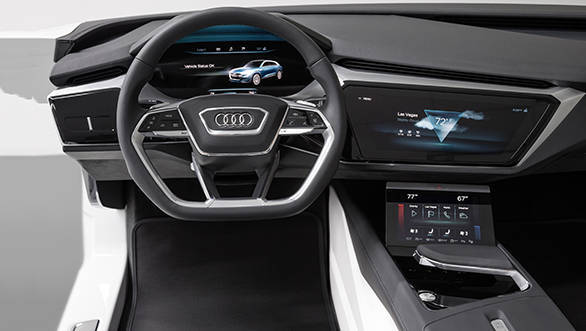 The company showcased a mock cockpit of the Audi e-tron Quattro concept which replaces all screens and controls with OLED display units that are integrated with what will be Audi's future MMI. This interface features what Audi calls 'MMI touch response' which provides a haptic feedback touchscreen, with gesture recognition. The system also displays real time information on traffic and locations of nearby charging stations on the digital instrument cluster using information from Here maps.
Piloted driving
Audi also showcased its piloted driving technologies at the 2016 CES. For piloted driving in traffic jams, Audi is further developing its radar-supported adaptive cruise control technology with a laser scanner the "delivers highly precise data at a distance of up to 80 metres." It has also partnered with tech companies such as TTTech, Mobileye, NVIDIA and Delphi to develop its central driver assistance controller, called zFAS. For the braking and steering systems to support piloted driving, Audi is working with Bosch, Continental, Valeo and Delphi.
Audi Fit Driver
The Audi Fit Driver, according to the company, "focusses on the well-being and health of the driver." The driver wears a device, like a fitness band or smartwatch, that keeps track of parameters such as heart rate and skin temperature, while the vehicle's sensors keep track of information on driving style, breathing rate and relevant environmental data such as weather or traffic conditions. The system combines this data to determine how stressed the driver is, and the "various vehicle systems act to relax, vitalise, or even protect the driver."
Price (Ex-Delhi)
Starts Rs 99.99 Lakhs