Caterham Aero Seven may preview future design language
Caterham's Aero Seven, unveiled at the Singapore Grand Prix, should be seen as a statement of intent rather than an accurate indication of how a post-Seven might look. Basically, it is the familiar chassis with a 2-litre Ford Duratec engine and an all-enveloping body, even if that doesn't include a windscreen… Caterham, owned by Air Asia tycoon Tony Fernandes, believes that a car like this would be more suitable for Asian markets than the traditional Seven with open wheels and separate fenders. A production model along these lines is planned for late next year, ahead of the C120 mid-engined coupe that Caterham will share with Renault's Alpine brand and is tipped for launch in 2016.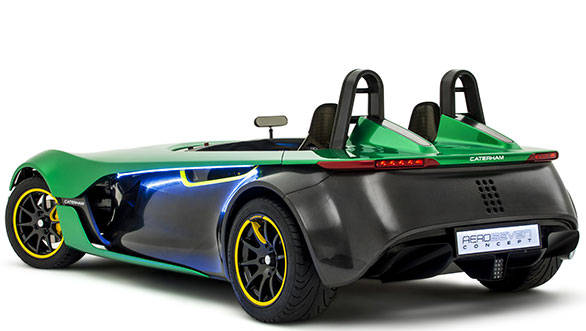 Under previous ownership, Caterham had just one attempt to make a car with a modern all-enveloping body. The 21 was a tight-fitting two-seater with its engine in the front which had the misfortune to be launched at the same time as the Lotus Elise, which was mid-engined, more exciting and cheaper. It was intended to celebrate the company's 21st anniversary in 1994. Just 48 cars were built.