Carlos Ghosn indicted again over fresh fund charges in Japan
It was just last month when former head of Nissan, Carlos Ghosn was released after paying a bail of 1 billion yen which translates to $9 million. And now fresh charges levied against the Brazilian-born businessman, who also holds French and Lebanese nationalities, had led to his indictment on Monday. The fresh charges were levied against him on the last day of his detention period. After the indictment, Carlos Ghosn could remain in custody for a longer period wherein his legal team will have to apply for a new bail request.
In 2017 and 2018, Carlos used his foreign corporate entities to transfer the money into the accounts that were connected to him, mentioned a statement by the Japanese prosecutors. However, Ghosn did announce his innocence over these new charges. It is being said that the new charges are the first of its kind against Carlos Ghosn, the former Chairman of Nissan who headed the triple alliance of Nissan, Renault SA and Mitsubishi Motors. Previously, he was indicted for under-reporting his compensation and shifting more than $16 million of personal losses to Nissan. Both, Nissan and Renault, after his arrest in November, found out that the payments that were wired through the companies located in Oman; Suhail Bahwan Automotive Group (SBA) and in Lebanon, as marketing incentives, were used to purchase a yacht along with funding his son's start-up company.
Additionally, one of his companies - Good Faith Investments - transferred funds to a firm related to his son Anthony Ghosn. The fund transfers to the above mentioned companies were done through reserve funds overseen by Ghosn himself. It is being speculated that SBA could have made payments to GFI with the help of a person called Divyendu Kumar who has been working as a senior executive at the founding company of SBA.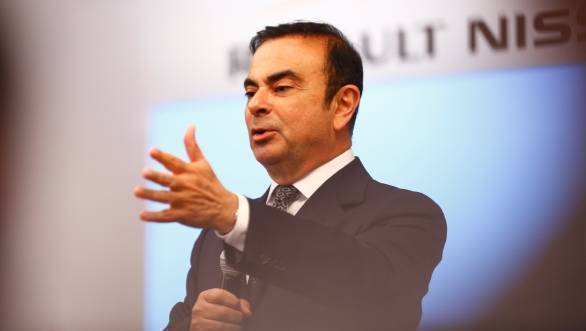 Carlos Ghosn heads the Renault Nissan alliance
As for the son's start-up, the amount that has been transferred from GFI to Shogun Investments that lists Anthony as a manager, is said to be more than $25 million. These charges, however, have been denied by Anthony who told Japanese news channel TV Asahi, on April 13, that the company has never received any funds from Renault-Nissan. He also added that there are at least 10 companies called Shogun in Japan. However, he did not confirm if the payments from Renault-Nissan have been received by any company that is related to his company, Shogun.
At the time of his bail last month, "I am innocent and totally committed to vigorously defending myself in a fair trial against these meritless and unsubstantiated accusations," said Carlos in an official statement. He further added, "I am extremely grateful for my family and friends who have stood by me throughout this terrible ordeal. I am also grateful to the NGOs and human rights activists in Japan and around the world who fight for the cause of presumption of innocence and a fair trial."
Also read, 
Carlos Ghosn removed as chairman of Mitsubishi Motors
Carlos Ghosn sacked as chairman of Nissan over scandal
Ex-Nissan head Carlos Ghosn released from Tokyo jail after paying $9m bail