California-based Neuron EV shows its version of an electric pickup truck
A shimmering pair of electric trucks from start-up Neuron EV caused quite the stir, confidently placed amidst the Ford and Tesla booths at the second edition of the China International Import Expo in Shanghai, China. Neuron EV, founded in 2017 and based in Los Angeles, is one of a handful of companies that have showed interest in the electric pickup truck, apart from Ford, Tesla, GM, Bollinger and Rivian to name a few, to cash in on the nearly 1.5 million sales in pickup trucks seen in the US this year alone.
Neuron EV, having released sketches of the T.ONE vehicles, including an electric pickup truck, earlier in November, unveiled their T.ONE modular concept, days after Tesla unveiled the Cybertruck during the LA Motor Show. At the heart of the T.ONE is its decentralised electric powertrain, based entirely on the skateboard chassis. This has allowed the T.ONE designers to visualize the vehicle in a multitude of forms, including the T.ONE-B pickup, the dualcab T.ONE-L and the T.ONE V van.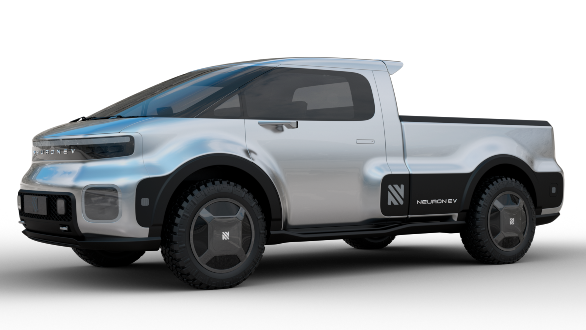 Its Robocop-inspired styling is not as disruptive as the Tesla's, with a fairly cab-forward stance and large glass areas, and a traditionally shaped load bed. The uniqueness of the T.ONE comes from the fact that its interiors can be specified in any configuration, from a 3/4/5 passenger layout in the case of the pickup, to a 6-passenger layout for the van.
At this stage, the T.ONE concepts appear to be mere design models, with no details having been shared about the power or driving range from its electric powertrain. Neuron EV claims that their EV's performance will be dictated by its usability instead.