C S Santosh receives FMSCI's Motor Sport Man of the Year award
The Federation of Motor Sports Clubs of India (FMSCI) held an awards ceremony to honour the achievements of Indian racers during the 2014 season. 54 champions across nine principal categories were awarded at the event that was held in Bangalore on May 25, 2016.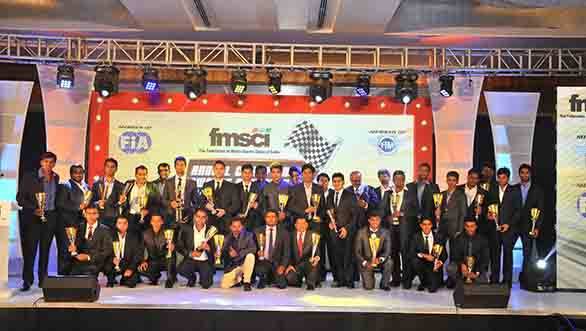 The winners
The FMSCI also gave away three special awards for extraordinary achievements. The Lifetime Achievement Award was given to Vijay Mallya for his contribution to Indian Motorsport. He was the one who set up an Indian Formula 1 team, Sahara Force India. Dr Vijay Mallya is actively involved in the team and intends to recruit an Indian driver from the Sahara Force India Drivers' Academy that was set up to train budding Indian racing talent.
C S Santosh won the Motor Sport Man of the Year award for his performance in the Dakar Rally
The second special award was the Motor Sport Man of the Year with the Raymond Gautam Singhania Rolling Trophy that was given to C S Santosh for his commendable performance at the Dakar Rally. He is the first Indian to have participates in the gruelling rally and even finishing it. He also received a cash prize of Rs two lakh.
Gaurav Gill is the 2014 Indian Rally Champion
The Motor Sport Star of the Future award was given to Arjun Maini for his performance in the European F3 and F4 races.
Speaking at the ceremony, R Bharath Raj, president, FMSCI said, "We are happy and proud to be giving away these awards to the 2014 champions in Bangalore. We hope these champions go to international events and keep the Indian flag flying high. Motorsport activity is on the rise in India. We hope to get many other international events in India and also hope that the sport grows even more in the future."
2014 FMSCI champions awarded trophies
Bangalore, May 25: The Federation of Motor Sports Clubs of India (FMSCI), on Monday, awarded trophies to 54 champions of the 2014 season in nine principal categories at a ceremony here. Three special awards were also given away: The Lifetime Achievement Award to Dr Vijay Mallya for this contribution to motor sport in India. The Motor Sport Man of the Year with the Raymond Gautam Singhania Rolling Trophy and a cash prize of Rs two lakh to CS Santosh for his recent excellent show in the Dakar Rally and other cross country events in the previous year. The Motor Sport Star of the Future award to 17-year-old Arjun Maini, who has been showing consistently good performance in the European F4 and F3 circuits. Speaking on the occasion, FMSCI President R Bharath Raj said: "We are happy and proud to be giving away these awards to the 2014 champions in Bangalore. We hope these champions go to international events and keep the Indian flag flying high. "Motor sport activity is on the rise in India. We hope to get many other international events in India and also hope that the sport grows even more in the future." Special Awards: Lifetime Achievement Award: Dr Vijay Mallya Motor Sport Man of the Year with Raymond Gautam Singhania Rolling Trophy and Rs 2 lakh cash prize: CS Santosh Motor Sport Star of the Future: Arjun Maini 2014 FMSCI Indian National Champions I) 2014 Indian Rally Championship (4W) 1. 2014 FMSCI 1600 cc Cup Winner Driver - Adith K.C. 2. 2014 FMSCI 1600 cc Cup Winner Co Driver - Harish K.N. 3. 2014 FMSCI Indian Rally Champion 1600 cc Driver - Phalghuna V Urs 4. 2014 FMSCI Indian Rally Champion 1600 cc Co Driver - Satish Rajagopal 5. 2014 FMSCI Indian Rally Champion 1600 cc Team - Team Yokohama 6. 2014 FMSCI Indian Rally Champion 2000 cc Driver - Rahul Kanthraj 7. 2014 FMSCI Indian Rally Champion 2000 cc Co-Driver - Vivek Y Bhatt 8. 2014 FMSCI Indian Rally Champion 2000 cc Team - Team Yokohama 9. 2014 FMSCI Indian Rally Champion Driver - Gaurav Gill 10. 2014 FMSCI Indian Rally Champion Co Driver - Musa Sherif 11. 2014 FMSCI Indian Rally Champion Team - Mahindra Adventure II) 2014 Indian National TSD Rally Championship (4W) 1. 2014 INTSDRC Champion Driver Pro Stock - Chidanand Murthy 2. 2014 INTSDRC Champion Navigator Pro Stock - Sujith Kumar B.S. 3. 2014 INTSDRC Champion Team Pro Stock - Team Tata 4. 2014 INTSDRC Champion Driver Pro Expert - K.P. Karthick Maruthi 5. 2014 INTSDRC Champion Navigator Pro Expert - S Sankar Anand 6. 2014 INTSDRC Champion Driver - K.P. Karthick Maruthi 7. 2014 INTSDRC Champion Navigator - S Sankar Anand III) 2014 JK Tyre FMSCI National Rotax Max Karting Championship 1. 2014 Micro Max National Champion - Yash Aradhya 2. 2014 Junior Max National Champion - Ricky Donison 3. 2014 Senior Max National Champion - Ameya Bafna IV) 2014 MMSC FMSCI National Racing Championship (4W) 1. 2014 National Racing Champion – Super Stock - B. Balavijay 2. 2014 National Racing Team Champion – Super Stock - Performance Racing 3. 2014 National Racing Champion – IJTC - Dr.V.J. Senthil 4. 2014 National Racing Team Champion – IJTC - Team Big Foots Racing 5. 2014 National Racing Champion- ITC - Arjun Narendran 6. 2014 National Racing Team Champion – ITC - Team Big Foots Racing 7. 2014 National Racing Champion – LGB 1300 - Goutham Parekh 8. 2014 National Racing Team Champion – LGB 1300 - Wallace Sports & Research Foundation 9. 2014 National Racing Champion – MRF FF 1600 - Tarun Reddy V) 2014 JK Tyre Racing Championship (4W) 1. 2014 National Champion JK FB 02 - Vishnu Prasad 2. 2014 National Champion JK LGB F4 - Diljith T.S. 3. 2014 VW Polo R Cup - Karthik Tharani 4. 2014 VW Polo R Cup Junior - Anindith Reddy Konda VI) JK Tyre FMSCI Indian National Drag Racing Championship (4W) 1. 2014 National Drag Racing Champion – Indian Open - Vinod S 2. 2014 National Drag Racing Champion – Unrestricted - Joel Joseph VII) JK Tyre FMSCI Indian National Drag Racing Championship (2W) 1. 2014 National Drag Racing Champion – Indian Open - Javeed Khan M.D. 2. 2014 National Drag Racing Champion – Unrestricted - Rizwan Khan VIII) 2014 MMSC FMSCI Indian National Motorcycle Racing Championship (2W) 1. Group D upto 130 cc Novice Champion - S Kannan 2. Group D upto 130 cc Novice Team Champion - TVS Racing 3. Group D upto 130 cc Novice Manufacturer Champion - TVS 4. Group D upto 165 cc Novice Champion - R Harikrishnan 5. Group D upto 165 cc Novice Team Champion - Sparks Racing 6. Group D upto 165 cc Novice Manufacturer Champion - Yamaha 7. Group C upto 165 cc Open Champion - K. Jagan 8. Group C upto 165 cc Open Team Champion - TVS Racing 9. Group C upto 165 cc Open Manufacturer Champion - Yamaha IX) 2014 MRF MOGRIP FMSCI National Supercross Championship (2W) 1. Foreign Open Grp A SX1 : upto 250 cc 2 stroke /500 cc 4 Stroke - Harith Noah 2. Novice Class Group C : 2/4 Stroke : upto 260 cc - Rakesh Nagraja 3. Indian Expert Class Group B : 2/4 Stroke : upto 260 cc - Pramod Joshua 4. Indian Expert Class Grp C : 2/4 Stroke : upto 260 cc - Abdul Wahid Tanveer 5. Private Expert Class Group C : 2/4 Stroke : upto 260 cc - Suhail Ahmed 6. Private Expert Grp A SX2 : upto 250 cc 2 stroke /500 cc 4 Stroke - Ganesh Lokhande 7. Junior Supercross upto 250 cc 2/4 Stroke - Yash Pawar