Bultaco Brinco hybrid bike showcased
Bultaco is a motorcycle brand that was founded in the year 1958 by Don Paco Bultó. It has been the winner of many championships with historic riders. How is that relevant now? The 21st century has seen the brand return with advanced tech including a self-developed electric propulsion system, regeneration and accumulation of energy solutions. All combined in a moto-bike concept.
According to the company, the new Bultaco Brinco moto-bike is a groundbreaking concept - it basically is a  bike that can be propelled by an electric motor, yet it retains the pedalling function. Brinco has a lot of customisations for multiple forms of riding, so riders can decide how to set up their bikes, switch to appropriate motor/pedal combination depending on the riding situation or requirement at any given time, independently pedal or use a combination of both. Simply put, it has a range of 30km if we rely on the battery alone but pedalling rewards by making the bike go up to as much as 100km.
Technical specs say that the bike is supported by an aluminium frame that has two suspension systems, with a 9-speed manual gearshift. The front of the bike includes a 200mm inverted front suspension fork that provides stability and steering precision, especially for off-road riding. The rear suspension comprises a monoshock with 220mm of travel. The electrical motor is situated on the rear wheel. The bike comes with three modes (Sport, Urban, Eco) ideal for different environments. The lithium-ion battery is situated in the main frame and is removeable, interchangeable and portable. It can be recharged in just two hours, says Bultaco. The frame uses an original mono-beam design that combines quality lightweight materials of high rigidity. This allows the bike to weigh a total of just 33kg, which includes the weight of the battery (7kg). The bike is equipped with discs on both wheels, and at the front, a four-piston calliper, which should ensure good performance. The 24 x 3 inch wheel size seems apt for obstacles that different environments offer.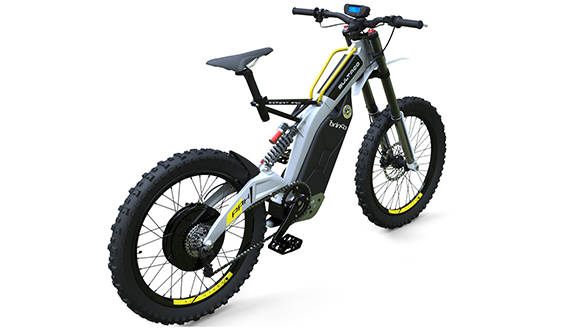 Through iOS/Android smartphone connectivity, the rider can know at any time, the amount of charge in the bike. Locating the bike using the optional installation of a SIM card is also possible. A log for distance travelled, speed and energy consumption is uploaded to the Cloud. To make it truly futuristic, the bike is unlocked by a wristband, avoiding any hassle relating to carrying keys.
The bike is priced at an eye watering Rs 3.75 lakh excluding, taxes, custom duties and shipping costs associated with such an offering. Still want one? 175 bikes are being offered for sale on their official website, labelled as "Bultaco is Back Limited Edition" with deliveries scheduled April 1, 2015 onwards.
THE LEGEND IS REINVENTED AND BORN INTO A NEW CONCEPT; BULTACO BRINCO
Bultaco has unveiled a new and groundbreaking concept, but remained true to its values; passion, innovation and competition. The Brinco Moto-Bike is a new segment for all ages. Brinco: Hyper-light, hyper-connected, hyper-fun bike. The launch of the Brinco starts with an exclusive 175 models of the "Bultaco is Back Limited Edition". They can already be reserved online on www.bultacobrinco.com Madrid, 18th Dec 2014 – For Bultaco, innovation is not only to reach new goals of technology but also to offer new experiences. The Brinco is groundbreaking and completely new. It is the result of the desire to translate the Bultaco spirit into a new era with a new language, but always faithful to the classical values of the brand: passion, innovation, competition. To resurrect the name of the old model Brinco, Bultaco has wanted to retain respect for the legacy of the brand once more, as a starting point for building the future. The new Bultaco Brinco represents all the legendary values of the brand, adapting to the new demands of the 21st century, to talk to all the generations of "Bultaquistas". For them, the engineers of Bultaco return to surprise the world with a product that opens a new market niche. With the new Bultaco Brinco, a new and groundbreaking concept has been created: the Moto-Bike - a surprising combination of linking the adrenaline that provides 100% electric propulsion, controlled directly by the wrist, and the physical experience of independent pedalling. Brinco creates freedom for multiple forms of riding, offering everyone the opportunity to decide how "to set up" their own Brinco, choosing the best motor/pedal combination for every situation at every moment with engine, independent pedal or a combination of both. Thanks to its impressive torque of 60Nm, a maximum speed of more than 60Km/h, a weight of just 33Kg and range of up to 100Km, Brinco offers pure fun. The Brinco allows you to enjoy any environment; in the countryside, with features that will surprise even the sportiest of users, and in the city, thanks to a unique combination of agility, connectivity and exclusivity, it's perfect for getting around the city. The Brinco: 100% Bultaco spirit for all ages. Brinco: hyper-light, hyper-connected, hyper-fun. The Bultaco Brinco impresses with its unique and innovative design. At its heart is a sturdy aluminium frame that supports two sophisticated and effective suspension systems, with a nine-speed manual gearshift. Its electrical motor is situated on the rear wheel with a potential maximum of 3Kw and a torque of 60Nm. This allows you to experience exhilarating sport riding. The throttle allows the rider to always have maximum control and comfort. The new Bultaco Brinco offers three modes of use: Sport, Urban and Eco Sport Mode: Enjoy and experience the fun of the agility and quality features that deliver a rapid acceleration thanks to its high torque motor of 60Nm and a maximum speed greater than 60Km/h. Urban Mode: Ideal for travelling from one place to another. Perfect for arriving on time anywhere within the city, and it has zero emissions. Eco Mode: Travel further with minimal energy consumption; range is more than 100Km, combining electrical propulsion and independent pedalling. The lithium-ion battery is situated in the main frame and is removable, interchangeable and portable. Furthermore, it can be recharged using a house plug in just 2 hours. The frame is aluminium, and uses an original and an exclusive mono-beam design that combines different lightweight materials of high rigidity and maximum quality. This allows the Bultaco Brinco to weigh a total of just 33 Kg, which includes the battery weighing 7 Kg in isolation. The front of the bike includes a 200mm inverted front suspension fork that provides outstanding stability and steering precision, providing excellent comfort, especially when riding off-road. The rear suspension comprises a Monoshock scheme with 220mm of travel. The braking system is equipped with discs on both wheels, and at the front, stands a four-piston calliper, ensuring optimum performance in any situation. The 24 X 3.0-inch wheel ensures stability and the ability to overcome the obstacles that different environments, from the country to the city, can offer. Always in contact To create a feeling of intimate contact between the Brinco and its owner is an objective of the connectivity system developed by Bultaco. Through a smartphone, the rider of the Brinco can know at any time, the amount of charge in the bike. It can geographically locate your Brinco (using the optional installation of a sim-card) and it can also log all the information about the distance travelled. Distance, speed and energy consumption are only some of the features available for the Brinco rider, at any time on both your smartphone and the cloud. A different and innovative system is also used when starting the engine. Through direct contact, the Brinco is unlocked by a discreet and elegant wristband, which avoids having to worry about keys. Brinco "Bultaco is Back Limited Edition" Bultaco wants to celebrate its return to the market starting with the limited series Brinco "Bultaco is Back Limited Edition", an exclusive series of 175 bikes which can be reserved/booked online through the website of the company: www.bultacobrinco.com The number 175 is special - Bultaco wanted to pay tribute to a historic date for the brand. On the 17th of May (17-5) Bultaco celebrates the anniversary of the founding of the company as also its founder, Don Pacó Bultó. For this reason, the brand relaunch also took place on this date. All those ones who want to be the first to own one of the exclusive 175 Brinco moto-bikes that open the new era of Bultaco, can already make an online reservation on www.bultacobrinco.com. The delivery of the Brinco "Bultaco is Back Limited Edition" is scheduled from April 1st, 2015. Technical specification of Brinco "Bultaco is Back Limited Edition" Ride Mappings 3: Sport / Urban / Eco Range; 100% electric: up to 30Km Electric + pedal: up to 100Km Charging time: 2 hours Charger: Off board Nominal power; 2Kw Peak power; 3Kw Maximum torque; 60Nm Motor; Hub Motor Battery; 1kWh – Lithium-Ion of high durability Removable and portable Frame; Aluminium mono-beam Front Brakes; Floating discs Ø 203 mm with a 4-piston calliper Rear Brakes; Floating discs Ø 203 mm Front Suspension; Upside Down Fork - 200 mm travel Rear Suspension; Piggyback Monoshock – 200 mm travel Gearshift; 9 speeds Tyres; 24 x 3,0" Weight; 33kg (battery of 7kg included) Connectivity; Smartphone (Bluetooth) Compatible Operative Systems; iOS/Android Keyless Starting System; Wristband/ Card Approval; No RRP; 4.800€ (VAT included)