British racing legend Sir Stirling Moss passes away aged 90
British motor racing legend, often considered the greatest driver never to have won a Formula 1 World Championship title, Sir Stirling Moss has passed away in the early hours of April 12, 2020. He was 90 years old. According to reports, he passed away in the comfort of his home in Mayfair, London, with his wife Lady Susie Moss at his side.
R.I.P Sir Stirling Moss (17 September 1929 - 12 April 2020)
Popularly called "Mr Motor Racing", Moss was known for his ability to master absolutely any racecar, whether it was Formula 1 machinery, sportscars, or anything else he raced in his career. While the F1 title might have eluded him, Moss finished runner-up four times, and finished third thrice.
Moss spent many years in uncompetitive cars because of his desire to race British machinery. That, and the fact that he always maintained, "I would rather lose a race driving fast enough to win it than win a race driving slowly enough to lose it," meant that his results in Formula 1 weren't an accurate representation of just how talented he was as a driver.
Moss in a Maserati 250F at Silverstone in 1956
That he was one of the greatest sportscar racers of the 1950s is undeniable. Moss won the 1955 Mille Miglia with Denis Jenkinson by his side, took victory at the Nurburgring 1000 in 1958 and 1959, and also won the 1959 Tourist Trophy.
A crash at Goodwood in 1962 left Moss severely injured and in a coma for many months. After he recovered, he felt that his speed had been affected by the accident, and retired from motor racing. He however continued to compete in historic racing until 2011.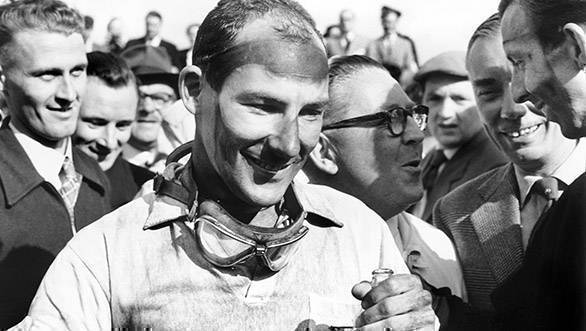 Stirling Moss at the 1957 British Grand Prix at Aintree. He was also nicknamed The Master of Aintree for his several wins at the circuit.
To say that Sir Stirling Moss was resilient would be an understatement. He survived falling down an elevator shaft in his home in 2010, and continued to appear at motor racing events until 2016, only retiring from public life due to an illness.
There wasn't a single racer, journalist, or motorsport fan that Moss ever sent away disappointed. He always had a moment to chat or recount an anecdote from days gone by. That Moss is no more is a reason for great sorrow in the motorsport world - we have lost the finest example of a motorsport gentleman.
Our thoughts are with Moss's family and friends during this difficult time.