Bridgestone launches B290 range tyres in India
Bridgestone, the world's largest tyre manufacturer has launched a new passenger car tyre called the B290 that was developed specifically for the Indian market. The B290 will be available in 25 sizes with varying widths and sidewalls between 12-16 inch rim wheels. This means the B290 could be fitted from entry-level cars like the Tata Nano to premium cars like the VW Jetta.
The company hasn't revealed prices yet but we expect it to be priced around Rs 4,500 a piece when it reaches showrooms by mid October. The B290 has about 50 per cent localized content at present. Vaibhav Saraf, GM sales and marketing, Bridgestone India says that, "with the appreciating Dollar, it is affecting us because of nearly 50 per cent imported raw materials. In order to compete strongly with Indian manufacturers, we will have to increase localized content."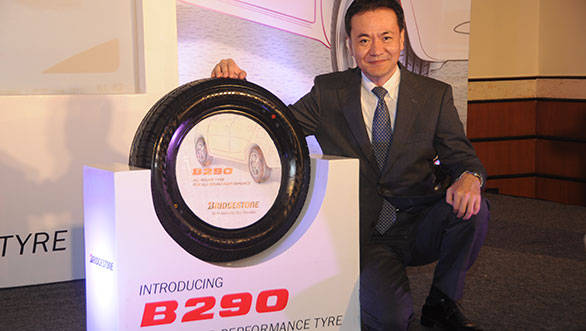 Tomio Fukuzumi, MD, Bridgestone India Pvt Ltd at the unveling of the B290
The B290 has a square tyre profile to the traditional rounded outer sidewall. The company says that this provides a better contact area where the tread touches the road. Other benefits of this profile are minimized shoulder wear and fewer tyre deformations.
The company promises increased tyre life of 10 per cent over its predecessor and also better handling and braking in dry and wet conditions than its existing B250 range that this product is eventually going to replace. The B290 will soon replace the B250 in the replacement tyre market although the company will not pull out the latter completely. OEM commitments for the B250 will continue for over a year more following which the B250 will be phased out.
Speaking on the occasion, Tomio Fukuzumi, Managing Director, Bridgestone India Pvt. Ltd said "We are pleased to offer B290 to the Indian Consumers as the product has great features that allow better tyre life and fuel efficiency."
Bridgestone has 2700 exclusive stores at present in India at present with plans to expand it to 3800 outlets by 2018. The company has two plants in the country, one at Kheda in MP and the other at Chakan, that was inaugurated in February 2013. Cumulatively, the company makes 20,000 passenger car tyres per day and around 1500 truck and bus tyres per day.