Breitling celebrates 77th anniversary of Douglas DC-3 with a world tour
On March 09, 2017, the Breitling DC-3 aircraft completed 77 years since its first flight, and Breitling has decided to use its birthday celebrations as an opportunity to launch a special, 500-piece-only Navitimer Aviation chronograph.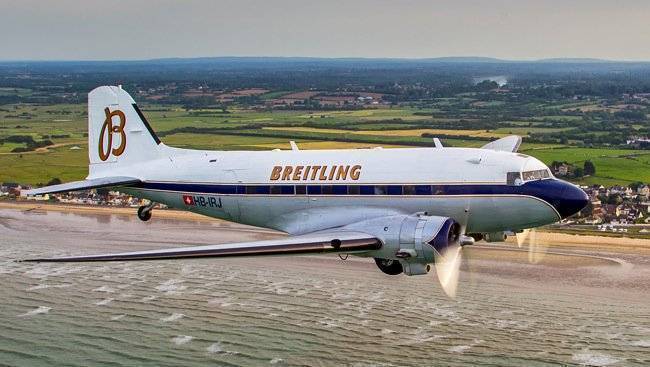 The Douglas DC-3 revolutionised air travel by making it more affordable to the masses. Over 16,000 DC-3s were built by Douglas in various configurations for civil and military aviation, between 1936 and 1942, and then a small production stint in 1950. Today, less than 150 flightworthy DC-3s exist around the world and the one used by Breitling is one such example. The Douglas DC-3 has, on many instances, been restored from the ground-up and this one too went through a restoration.
The twin-propeller engine-driven DC-3 used by Breitling first flew on March 09, 1940, after which it was delivered to American Airlines. The Army then hired this aircraft between 1942 and 1944 to use it during World War II. After seeing war, the DC-3 spent many years flying under the banner of various airlines and finally was bought by some enthusiasts in 2008. Breitling, once again showing its enthusiasm towards aviation and its historical significance, helped the enthusiasts restore the aircraft. Since then, this aircraft has been used in various aviation shows around the world.
With this world tour, the Breitling Douglas DC-3 has become the oldest aircraft to undertake an around-the-world tour. The world tour started from Geneva and the aircraft is currently flying to Dubai, after which it will make a stop in India. The stopovers around the world tour are planned in such a way that the company can organise events or participate in air shows around the world. The world tour will end in September at the Breitling Sion Airshow 2017 in Switzerland.
What makes this world tour special for Breitling is the fact that the aircraft will be carrying the limited-edition Navitimer Aviation chronograph. The steel Navitimer will be distinguished by its case back which will be engraved with the Breitling DC-3 world tour logo. The watch will be delivered to its customers with a certificate signed by the flight captain, making it even more exclusive. But deliveries will begin once the world tour is done with, as the watches are intended to be aboard the Breitling DC-3 throughout the journey.
Prices for the Navitimer Aviation chronograph have not been announced. With prices for the regular Navitimer chronograph starting at around Rs 5.35 lakh, we are sure the limited-edition watch would cost a lot more.