BRDC British F3: Second place for Tarun Reddy at Snetterton
Tarun Reddy claimed his third successive podium position in a race weekend, finishing second in the second race of the penultimate round of the BRDC British F3 championship at Snetterton. Reddy finished seventh in Race 1 and ninth in Race 3.
While the start of the 2016 season of racing didn't go quite as Reddy had planned, the Indian driver recovered over the last three rounds. He managed to score podiums at both Silverstone and Spa. At Snetterton, Reddy topped free practice times on Thursday, following which he qualified in 10th place on Friday.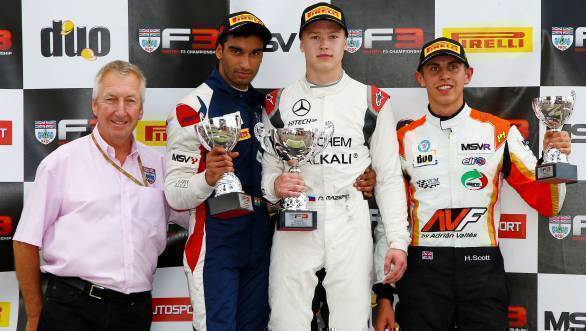 Nikita Mazepin took first place, while Tarun Reddy finished second at Race 2 of the penultimate BRDC British F3 round at Snetterton
During the first race, Reddy got off to a slow start, retaining his 10th place for most of the race, before finally getting past Eugene Denyssen and Aleksanteri Huovinen to move into eighth place with just three laps to go. On the final lap of the race, he moved past Nikita Mazepin and managed to get to seventh place. This also put him on the front row for the reverse grid start for Race 2.
During the second race, Nikita Mazepin led the field into the first corner. Reddy followed close behind, maintaining his second place. And even though Reddy tried to overtake Mazepin, the Sahara Force India Academy driver would have none of it. Post the halfway mark of the race, it became evident that Mazepin couldn't be beaten, and he took the chequered flag first, with Reddy behind him in second place.
In the third race, Reddy could do no better than ninth.
Reddy, who drives for Fortec Motorsports, was happy to be on the podium again as he got more comfortable with the car. He said, "Another good weekend for me and the team. We have had good pace all weekend but not enough to match the front runners. Snetterton is a circuit where overtaking is tough so qualifying position is crucial. I am extremely happy to be on the podium again and it is a true reflection of the improvement we have made over the last few races. I wish the season was longer as we are just getting comfortable with the car. I will give it my all in the final round at Donington."
The final round of the championship will take place in Donington Park on September 10-11.