Bosch in talks with Indian auto manufacturers to integrate e-clutch system
The automated manual transmission is a concept we are fairly familiar with in India thanks to its introduction by Maruti Suzuki in the Celerio and now more recently the Alto. That device simply eliminates the need for a clutch providing customers an automatic driving experience. Bosch on the hand have a system called the eClutch that was introduced globally in 2013. It functions in a manner similar to the AMT as in it is applied to a manual transmission but unlike the AMT does not eliminate the clutch pedal from the car. This allows users who still prefer to use a stick shift to continue doing so when they'd like to but at the same time also engage an automated response from the transmission when required, say while driving in urban traffic conditions.
The success of the AMT transmission has encouraged Bosch to engage in talks with several Indian automotive manufacturers to adopt the system since its benefits outweigh those offered by the AMT. We spoke to Steffen Berns, MD Bosch limited and president Bosch Group India and he mentioned that several manufacturers were interested and that they were conducting their due diligence on the system but refused to however disclose which Indian manufacturers were involved. Bosch works closely with all three big Indian manufacturers, Maruti Suzuki, Mahindra and Tata Motors in addition to players in the commercial vehicle segment.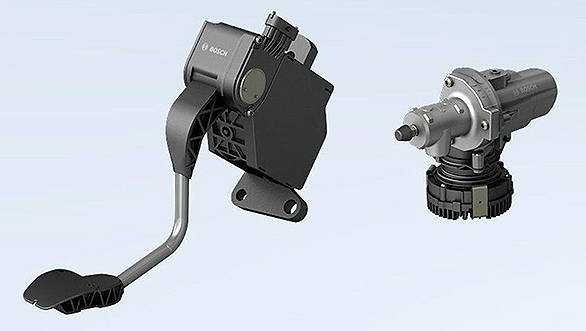 The first and biggest benefit of the system is the higher fuel efficiency derived as compared to the AMT. The eClutch has a start stop coasting function that reduces fuel consumption by nearly 10 per cent. Start stop coasting effectively switches off the engine when the system senses that the driver is no longer accelerating. The Bosch system simply detects the driver reducing pressure on the accelerator pedal and decouples the engine from the transmission to reduce fuel intake.
But AMT's big thrust also came from the fact that the technology is highly affordable. Can Bosch provide the same levels of cost effectiveness, is still left to be seen. However Bosch claims the system is significantly cheaper than any conventional automatic transmission.
The eClutch system also offers other benefits such as smoother and quicker gear shifts. Drivability in the new Maruti Alto with the AMT isn't fantastic but at the low urban speeds it will be largely used in, its not much of an issue. Where Bosch could score big with the eClutch system is with larger hatchbacks and the mid-range C-segment sedans whose consumers would appreciate the better refinement, smoothness and efficiency. The eClutch also allows consumers to start off from traffic lights for instance in first or second gear without stalling the car.
Given that demand for automated transmissions has skyrocketed, the Bosch eClutch definitely has the potential to bring that sort of interest levels for clutchless driving in higher segments given its fuel saving credo.