BMW, Volkswagen, Vauxhall and Skoda announce new products
Car manufacturers globally have come up with a number of exciting products to mark the beginning of the new fiscal year in India, and it has nothing to do with the April Fools Day. Honest.
We have been seeing these products testing on Indian roads and leaving behind a long trail of pearly white bread crumbs in case someone missed them. But we could not write about them because of companies putting the information on embargo, only to be lifted on 00:00:01 BST April 1, 2014. (BST here, we suspect, does not stand for British Summer Time). Here is a compilation of all these path-breaking products:
1. Mini Cooper T also Mini Cooper Tea
Advancing the cause of biofuels, BMW has created a Mini Cooper T which is fuelled by a tea-leaf composite. The company will debut the vehicle today at Gloucester in UK with prices yet to be announced.
Company claims that the Cooper T can cover a staggering 64.3km on a single cup of tea. The T is available in a number of colour palates namely Chamomile Yellow, Red Bush and Earl Grey, and is set to take the automobile industry by a storm when it will be served to the public later this month. Apart from the usual VVT, ABS and DSC, the T also gets a unique filtration system named Dunk Avoidance Technology (DAT). The company describes the new technology as follows:
"This ingenious filtration system stops peckish owners and opportunistic passersby from inserting biscuits into the Mini T's fuel tank in order to moisten their snacks."
2. Mini GoalCooper
Mini Cooper offers a second product in keeping with the upcoming football World Cup in Brazil - the Mini Paceman GoalCooper. The Mini Design Team gives the special edition car, expected to be the only passenger car allowed on Brazil streets to avoid traffic congestion during the international event, exclusive Danielson multi-coloured exterior line.
Inside, the GoalCooper gets astro turf floor mats in Brasileiro green and a fantastic Mini LED interior lighting package giving it a stadium like feel.
The rear seatbacks can be folded over to turn the boot, which is fully clad in AstroTurf, into a football goal. The net is attached behind the front seats. As soon as the Park Distance Control (PDC) sensors, in conjunction with the interior monitoring sensors of the alarm system, register a shot on goal, the electric tailgate is operated, instantly closing the tailgate, reflecting the ball and keeping the box clean.
3. Volkswagen introduces PWD (paw-wheel-drive)
Volkswagen Commercial Vehicles have partnered with ethical treatment of animals group RSPCA to teach rescue dogs to drive.
Over the past two months, three mixed-breed dogs, Tulip, Jacob and Harry, have been taught to drive a Volkswagen Amarok by the animal welfare charity.
Amazingly the dogs have learned to control the brakes, gears and even the steering wheel. People wanting to see, or steer clear of the dog-driven pick-up should look out for a Reflex Silver Amarok with the number plate FR5T APR.
4. Fully legal 'speed gene' testing at Jerez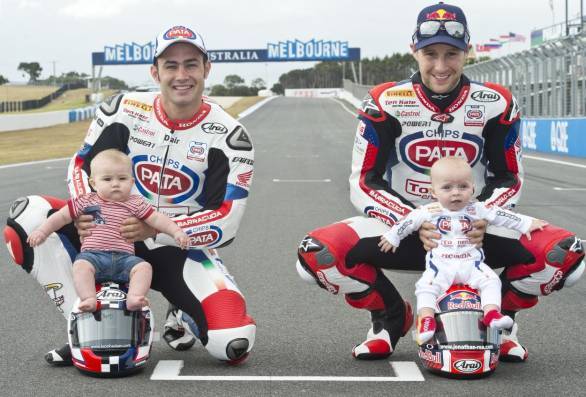 Meanwhile, Pata Honda has announced adoption of a new youth policy - nepotism.
As a part of the policy, regular riders Leon Haslam and Jonathan Rea will hand over their Honda CBR1000RR SP racing machines to their respective young sons for the final day of the World Superbike championship test currently taking place at Jerez in Spain.
Despite being less than a year old, Max Haslam and Jake Rea are deemed to have inherited sufficient quantities of the so-called 'speed gene' to warrant a full test on the sophisticated production race bikes.
5. Fur Skoda Yeti fans everywhere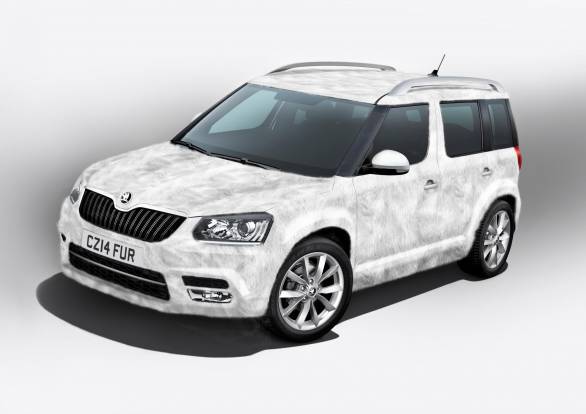 Škoda has launched the special edition the Yeti Ice with a radical new faux fur finish that has been developed by engineers working in the Himalayas. The car will be available only for limited period – today.
The Yeti Ice's faux fur has numerous advantages over traditional paint, as its inventor, Dr Yu Ciddingme explains: "The fur is so thick and luxurious that during our tests in the Arctic Circle, our test drivers didn't need to use the heater."
Head of Special Developments, Prof Lukat Thedate said: "Everybody loves the new furry finish. People like to give it a hug and a tickle under the bumper."
6. Peugeot announces new personalisation programme for car horns
After a long-standing struggle, the Society for Freedom of Expression While Driving (SFEWD) is celebrating. It has just read a press statement by Peugeot, stating: "Now, for the very first time, drivers will be able to personalise their car horns using state-of-the-art Audio Sonic technology"
According to the statement, horns can be chosen from a library of sounds, or customers can create and upload their own via smartphone.
The rise of social media and the digital world has resulted in people wanting to express themselves like never before. Now Peugeot is taking this passion for individuality to the next level, the PR added.
7. Vauxhall launches new Astra Copacabana
With a Brazilian flag on its roof, palm trees and dancing lines along its doors, the all-new Astra Copacabana is the epitome of pure South American emotion.
Under the bonnet, its new 200PS 1.6 Turbo litre engine offers more drama than a penalty shoot-out, while acceleration from 0-100kmph in just 2.7 seconds will press drivers into their seat-backs, which are upholstered from genuine Rio turf.
Vauxhall's interior designers successfully processed original grass from the famous Maracanã Stadium. Every car comes with a certificate confirming the authenticity of the sacred greenery.
Just as authentic are the footwells, which are filled with finest sand from the beach that gave this football-themed model its name.
The Astra Copacabana is available today for just £41,024.01 from your nearest participating Vauxhall dealer.
8. BMW's new offering for speed conscious safety junkies
BMW has developed an artificial G-force technology called the Force Injection Booster (FIB). This technology is accessible under speeds of 32kmph and gives the driver a sensation of a high speed driving by making clever use of electronics and climate control system. This system is available on Beemers starting from today.
When the FIB is activated, it extracts kinetic energy from the car's engine and converts it in to positive G-forces which are then directed towards the passengers and driver from the AC vents with a mild electric current coursing through the front seats at the same time.
This leads to a sensation which is similar to what is felt by a driver when operating a vehicle at high speeds, claims BMW. Mika Notbetru who is the head of BMW Innovation describes the FIB technology as "mind blowingly unbelievable."
This invention by the Munich based manufacturer can possibly lead to a decrease in road accidents which are caused by speeding or reckless driving, as adrenaline junkies can get their daily dose by making use of this system. Another of BMW's innovations, the AirNet- hair protection technology will make sure that your style quotient is not lowered in pursuit of performance.
Price (Ex-Delhi)
Starts Rs 38 Lakhs