BMW Motorrad's plan for Indian two-wheeler market comes into focus
BMW Motorrad's dalliance with India is ready to become a full-fledged relationship before 2016 is over. The company has confirmed that the official entry of BMW Motorrad into India will come during the last quarter of 2016. But first just a little bit of history.
BMW motorcycles and India
BMW's Indian adventures started with the F650 Funduro for which the German brand partnered with Hero Motors in the late '90s. The motorcycle was a milestone for performance and ability but unfortunately, the price was beyond optimistic and the Funduro's run in India was short.
After that, BMW motorcycles in India have primarily been sold on the grey market or by its two importers, Navnit Motors and Deutsche Motoren. It has been BMW's product excellence and reputation, especially with regards to the BMW R 1200 GS and the all-conquering S 1000 RR, that's kept the numbers moving despite the stunning prices. There had been some chatter about homologating the F 650 and the F 700 lines but that's added up to nought so far.
The G 310 R
BMW began to take India seriously once the market pressures, as well as the global success and impact of the Bajaj-KTM joint motorcycle development, production, distribution and sales established a new high watermark.
OVERDRIVE spoke to a spokesperson in Munich two years before the TVS-BMW announcement. When asked about BMW Motorrad's plan to expand in India, the official responded, "India is a strategic market for BMW Motorrad. Our presence right now is about brand awareness more than volumes. That focus will come later when the market matures more." We have come a long way from that stance.
As we know now, BMW went on to ink a cooperation agreement with TVS. TVS is fiercely protective of its ownership pattern, and no stakes were offered for sale on either side. However, the TVS-BMW project took a clear shape. BMW would develop a new sub-500cc platform (to start with) and both brands would enjoy a line of new motorcycles from it. TVS would observe and absorb the technology, processes and engineering in this process. TVS would also be the manufacturing partner, building both versions out of its Hosur plant under BMW quality supervision. TVS' first motorcycle from this project is likely to be the fetching Akula 310.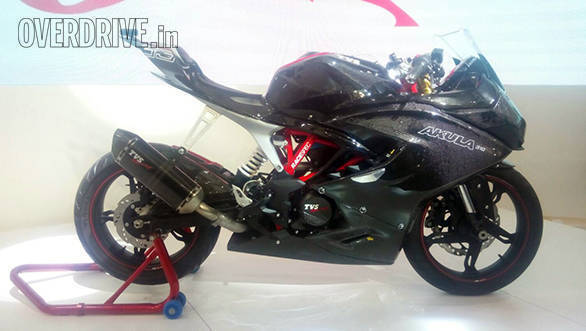 The BMW G 310 R has been in the public domain for months and we have got to know it as well as possible without riding it. We now have confirmation that BMW Motorrad will put this motorcycle in sale in India in the last quarter of 2016.
BMW Motorrad India distribution
Which naturally begs the question, where would you go to buy one? TVS and BMW made clear initially itself that despite how closely they would work on the new bikes, they would be sold through each company's own dealers.
We understand that Navnit Motors, an importer so far, will sync up with the new network which BMW Motorrad India is sure to be in the process of creating. Odds are that Navnit will be the Mumbai dealer when BMW announces its arrival officially later this year.
We further expect BMW Motorrad to have three-four more dealers at the start. Since the product lines are premium and super premium in nature, this makes sense. It is possible in India right now to service a majority of the premium motorcycle market with a handful of carefully located dealers. We expect - this is our guess - Delhi, Bangalore, Chennai and Ahmedabad to be on that initial list in that order of importance.
The CBU lines
BMW Motorrad's already been selling a small line of CBU products, and these will be sold through the new dealers alongside the G 310 R. The flagships lines will be the amazing S 1000 RR sportsbike and the R 1200 GS adventure tourer. Both have a few variants and a large optional equipment list, and we expect BMW Motorrad to offer most if not all of this in India. Also on sale will be the inline 4- and inline 6-cylinder touring range, the K lines. But the juicy questions are all circling its smaller F 700 and F 800 lines.
The mid-displacement BMWs
Whether you look at the F 700 GS, or the F 800 GT, R or GS, the big hurdle in India for these bikes is their 798cc engine. Since it is under the 800cc limit, BMW Motorrad has to homologate these bikes for India if it intends to sell them. In fact, for a short while, the impressive but expensive BMW F 650 GS was on sale in India.
BMW Thailand
Enter BMW's Rayong plant in Thailand. The Rayong plant makes a whole bunch of BMW cars, minis as well as eight BMW models, including the F 700 GS, F 800 R, F 800 GS, F 800 GT, S 1000 R, S 1000 RR, R 1200 GS and R 1200 GS Adventure.
This is very interesting because it opens the door for BMW to exploit the India-Thailand FTA to its advantage just like Ducati, Kawasaki and Triumph already do. Importing bikes fully built, a la Ducati, still allows good pricing, and we are willing to bet that BMW Motorrad intends to use the Thailand production facility to bolster its super premium range in options, profit as well as pricing.
Obviously, all of this isn't going to happen on day one. As we understand it, BMW Motorrad's innings will begin with a handful of dealers, the BMW G 310 R and its S, R and K CBUs. What will follow is network expansion, more products from the platform that underpins the G 310 R and hopefully, reasonably priced Thai-sourced middleweights.
Price (Ex-Delhi)
Starts Rs 2,45,000