BMW Motorrad Vision Next 100 concept unveiled
After unveiling the BMW, Mini and Rolls-Royce 'Vision Next 100' concepts, BMW Group has now unveiled its interpretation of the motorcycle of the future. The BMW Motorrad Vision Next 100 concept is so radical that the company says 'the rider won't need to wear a helmet or protective clothing'.  That is primarily because the concept motorcycle gets artificial intelligence to assist the rider.
With respect to the powertrain, the only bit that BMW Motorrad has revealed is that 'it is powered by a zero-emissions drive unit'. The concept motorcycle's black frame is inspired from the BMW R32, the first motorcycle manufactured by the company. The seat, upper frame cover and wings are made of carbon.
In a press release, the company has stated that the BMW Motorrad Vision Next 100 concept features 'intelligent connectivity between the rider and the motorcycle in conjunction with the active assistance systems'. The concept motorcycle can automatically balance itself. The active assistance systems can also suggests the ideal lines and angles and warn riders of impeding dangers. If the rider doesn't respond to the suggested lines and angles, then the concept will automatically follow the correct line.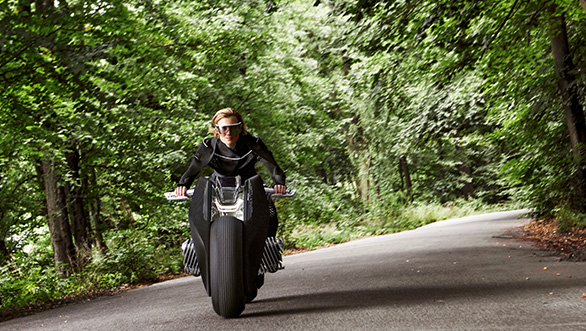 The rider needs to wear a special pair of glasses which BMW calls 'the visor' that covers the entire field of vision. The company says that 'apart from providing wind protection, it displays data in designated areas and can be controlled by the rider's eye movement'. By looking up, the rider can activate the rear-view function while looking down will activate the map view. If the rider looks straight ahead, then the information display will get switched off.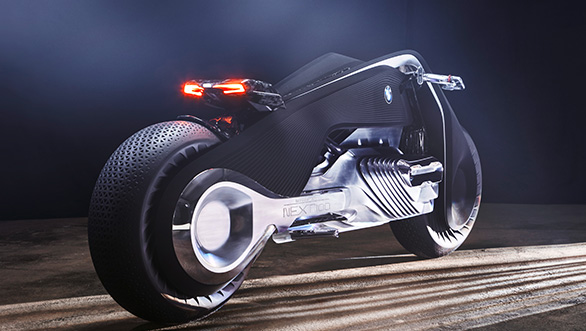 The BMW Motorrad Vision Next 100 made its debut on October 11 in Santa Monica, California. Celebrating its 100 years of existence, the BMW Group has showcased three car concepts earlier this year. This motorcycle is the group's fourth and final concept.