BMW India opens first integrated dealership for all three brands - BMW, MINI, BMW Motorrad in Chandigarh
BMW India has opened its first integrated dealership for BMW, MINI and BMW Motorrad in Chandigarh. The facility is run by Krishna Automobiles and is located at 125 Industrial Area, Phase 1, Chandigarh and spread over 50,500 sq. ft. After sales services like Service, Spare-parts and Business Systems are also available here.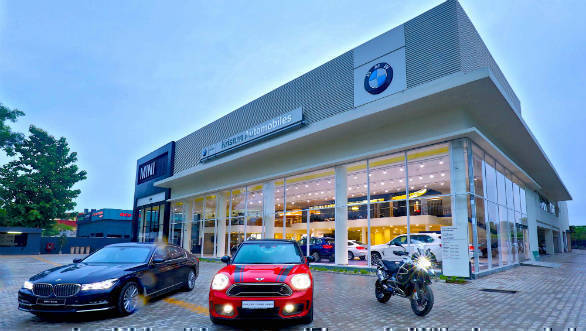 This BMW Facility Next dealership has been designed to connect with customers of all three brands better through the use of modern architecture, appealing design concepts and engaging new-age technologies. The idea is to seamlessly present BMW, Mini and BMW Motorrad to customers at a single location
The BMW showroom has a seven-car display and a four-car display zone for BMW Premium Selection cars. The Mini showroom features a three-car display along with a display of Mini lifestyle kits and accessories. The BMW Motorrad area will showcase 12 motorcycles along with exciting lifestyle merchandise and accessories.
Vikram Pahwa, Chairman, BMW Group India said that the BMW Facility Next Concept is their view of how retail will shape and play a crucial role in the brand's interaction with the customers. Chandigarh is an important market for them and they have experienced a strong pull for all three brands - BMW, MINI and BMW Motorrad here.
He also said that the firm's long-standing relationship with Krishna Automobiles was now strengthened further as they have also appointed them as our dealer partner for MINI and BMW Motorrad in one of the most promising markets in India.