BMW G 310 R and G 310 GS official accessories from BMW Motorrad India
BMW Motorrad started delivering their two volume-segment motorcycles, the G 310 R and the G 310 GS in India. Since the BMW R 1200 GS owners are well-known to spend considerable amounts of money accessorising and personalising their motorcycles, we asked BMW Motorrad India what accessories were being sold for these machines. Here is what we learned.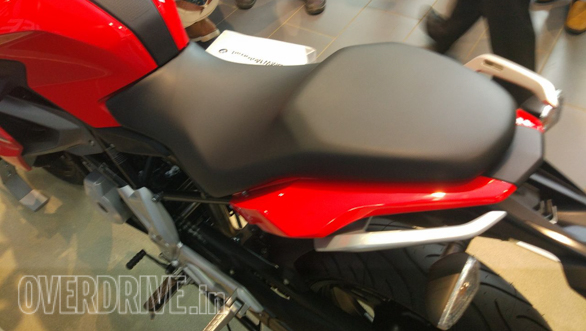 The G 310 R has a reasonably low seat height at 785mm. But you can purchase a lower seat (770mm) as an option if you like. And while our first ride was impressive, it was short so we didn't comment on comfort. But BMW Motorrad India will offer a Comfort Seat as an option for the R too.
The G 310 GS is a narrow motorcycle so getting your feet down should not be a problem for most of us. But for those of shorter inseams, the G 310 GS catalogue has an optional low seat. There is also a high seat for taller riders to find a comfortable riding position.
Representative image of a BMW Motorrad tank bag on the F750 GS
The G 310 GS catalogue will also have a 'Tank Rucksack' or a tank bag that you can add. The tank is metal but we aren't sure if the tank bag is metal or strap mounted. We have reached out for information and will update this story once we get a confirmation.
Common accessories for BMWs G 310 R and G 310 GS
Both bikes will get an optional 12V socket that you can add. This is likely to be the narrow DIN-style socket, not a cigarette lighter socket that is more common in Indian cars.
Both bikes will also get two top cases, or luggage boxes that mount behind the rear set. The cheaper option is called Basic and it's a 29-litre top case, while the 30-litre top case will be the more expensive option.
Since both the bikes use bulb-style indicators, BMW Motorrad will sell LED indicators you can purchase and upgrade to.
BMW Motorrad India is also offering a navigation mount as well as a navigation device as two separately priced options for the bikes. The device, we confirmed, is a lower priced unit than the ones that go on the bigger BMWs.
No prices?
We have reached out to BMW Motorrad India for the pricing information on these accessories and we will update this page as soon as we know more.
What? No spoke wheels?
Yes, no spoke wheels. We reconfirmed with BMW Motorrad India that no spoke wheel options were currently being offering for the BMW G 310 GS anywhere on the planet officially. There is an active aftermarket, naturally, and sourcing spoke wheels that fit straight on is, at best, just a matter of time. But BMW Motorrad India will not have any spoke wheels to offer. The BMW accessory and product catalogue is refreshed annually and one hopes that the next round of updates has the wheels everyone is asking about.
Also see:
Service costs of the BMW G 310 R and G 310 GS
2018 BMW G 310 R image gallery
2018 BMW G 310 GS image gallery
8 things you need to know about the BMW G 310 R and G 310 GS
Price (Ex-Delhi)
Starts Rs 2,45,000
Price (Ex-Delhi)
Starts Rs 2,85,000