BMW 3 Series (G20) wins the Premium Car Award 2020 by ICOTY
The Indian Car of the Year award is the most prestigious accolade that is sought by every car sold in the Indian market. Last year, the ICOTY committee added a new category - the Premium car of the Year - that complements the illustrious ICOTY honour. This year, the winner of this prestigious award is the new BMW 3 Series. The 3er finished ahead of its own sibling, the BMW X5, and the recently launched Audi A6.
The Premium Car Award by ICOTY, puts into contention, all premium, performance and luxury cars that sit upward of Rs 40 lakh. These include both, locally produced as well as imported units. Based on that criteria, 10 cars were shortlisted for 2020 - the Audi A6, BMW 3 Series, X4, X5, X7 and Z4, Jeep Wrangler, Mercedes-Benz CLS and V-Class, and the Porsche 911 Carrera. Of these, the X7, Z4, V-Class and the 911 Carrera were a no-show.
This year's jury comprised of Yogendra Pratap and Rahul Ghosh from Auto Today, Dhruv Behl and Ishan Raghava from AutoX, Aspi Bhathena and Sarmad Kadiri from Car India, Sirish Chandran and Aniruddha Rangnekar from Evo India, Kartik Ware and Pablo Chaterji from Motoring World, Bertrand D'souza and Rohit Paradkar from OVERDRIVE, Muralidhar Swaminathan from The Hindu Business Line, Vikrant Singh from carwale.com, Kushan Mitra from The Pioneer and Girish Karkera from GQ India.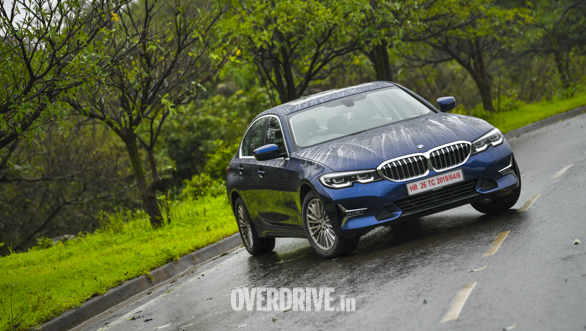 On behalf of the ICOTY committee, the Premium Car Award was presented by Dr. Raghupati Singhania, Chairman & Managing Director, JK Tyre & Industries Limited, to Mr. Rudratej Singh, President & CEO of BMW India. Mr. Yogendra Pratap, Chairman of the ICOTY, presented with the winner's certificate that was signed by all the jury members.
This year, the ICOTY jury panel's voting process was supported by Grant Thornton who came onboard as the Award Validators. JK Tyre, who are a staunch supporter of ICOTY's endeavours since the award's inception, was instrumental as always in organising the function and the gala dinner. The venue for this year's awards night was the JW Marriott Aerocity in New Delhi. Well known musician, Gary Lawyer, graced the ceremony with his performance. The momentous occasion witnessed the presence of stalwarts from the Indian automotive industry and the esteemed automotive media fraternity. Last year's winner of the Premium Car Award, the Volvo XC40, was also present in the line up of vehicles displayed at the award's night.
Also Read:
Comparison test: BMW 3 Series vs Mercedes-Benz C-Class
Comparison test: BMW X5 vs Audi Q7
2019 BMW X5 xDrive30d road test review
Comparison Test: 2020 Audi A6 45 TFSI vs 2019 Mercedes-Benz E 200 LWB
Price (Ex-Delhi)
Starts Rs 41.7 Lakhs
Price (Ex-Delhi)
Starts Rs 54.42 Lakhs
Price (Ex-Delhi)
Starts Rs 79.99 Lakhs
Price (Ex-Delhi)
Starts Rs 74.9 Lakhs
Price (Ex-Delhi)
Starts Rs 53.9 Lakhs
Price (Ex-Delhi)
Starts Rs 55 Lakhs
Price (Ex-Delhi)
Starts Rs 84.7 Lakhs
Price (Ex-Delhi)
Starts Rs 1.38 Crore
Price (Ex-Delhi)
Starts Rs 39.9 Lakhs