Best SUVs to buy in India
Indians love SUVs. There is no denying it, the sales figures seldom lie. So we have listed out the best SUVs that you can buy today in India - right from Rs 6.5 lakh to over Rs 1 crore.
The replacement to the cult Classic and the MM540, the Thar is easily the most affordable and the best bare knuckled off-road beast there is available for enthusiasts today.
Unveiled in 2010, the Thar is available in two engine trims but what you need and must have is the more contemporary common rail turbo diesel with 247Nm of torque. A 5-speed manual transmission with a Borg Warner manual shift low ratio transfer case provides superb off-road traction. And the light and compact dimensions make it easy to put this SUV in the most challenging of conditions. 200mm of ground clearance, a 46 degree approach angle and 30 degree departure angle is good anywhere. Nonetheless the Thar is still a fairly rudimentary SUV that can be improved in several areas. Yet priced as it is, it leaves a lot of room for enthusiasts to look into personalising. Mahindra also helps customers to personalise their Thars. [Mahindra Thar India first drive]
Ford EcoSport Ecoboost (Rs 7.89 Lakh ex-Delhi)
The 2013 Ford EcoSport EcoBoost
Ford played a big hand in 2013 and the gamble paid off handsomely. The EcoSport has been accepted globally and it's making cash registers ring for Ford in every market it's present in. Here in India too the EcoSport has turned the company's fortunes around and Ford is no longer considered a down on its luck manufacturer.
The pick of the litter in the EcoBoost range though has to be the 1.0-litre EcoBoost engine, which superbly shows off how turbocharged low displacement petrol engines are the way to the future. Despite the low displacement, the EcoBoost engine develops more power than the standard naturally aspirated 1.5-litre petrol that powers another variant of the EcoSport. But it's not just the output ratings, it's the way the power and torque manifests itself that makes the EcoBoost variant the most enjoyable EcoSportthere is. It's linear, rapid and relentless and a whole lot of fun. [Ford]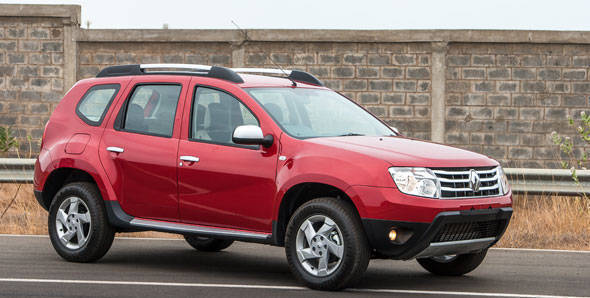 Rugged good looks and solid engineering have made the Duster a household name in India. Sales have dwindled in the last couple of months due to the shift in consumer interest towards the Ecosport, yet the Duster remains one of the nicest SUVs you could own at around the Rs 10 lakh mark. We highly recommend the 85PS RxL variant because the engine in this SUV feels a lot more linear and urgent than the more powerful 110PS. The higher powered variant is a better option if you move between cities frequently but if it's urban mobility you are looking for the basic diesel is brilliant. It's got superb drivability and the ride quality, optimally sorted out for all Indian road conditions, is benchmark for the class. There are a few inherent issues such as the sharp kickback from the steering wheel when turning in at speed, but this manifests itself on the highway and seldom in the city. A new restyled Duster is on the cards and should be in India mid to late 2014. [Renault]
If it's off-road ability you are looking for there is none better than the Toyota Fortuner to invest in. Our recommendation is the 4x4 variant, skip the automatic 2WD unless all you want is imposing size, space and comfort in urban conditions. But the Fortuner, based on the outstanding Hilux platform, was built for the great outdoors and that is where it operates best.
Under the hood is a massively torquey engine, the 343Nm of max torque you get is good enough to take this SUV anywhere. A torsen (torque sensing) lockable differential ensures you have a diverse range of off-road abilities at your disposal. Barring the legendary Mitsubishi Pajero there is nothing else at this price point that can take you off-road like the Fortuner can, and that too in fairly comfortable settings.
On road though, there are better choices as the body-on-frame chassis leaves much to be desired in terms of dynamics. Ride quality is exemplary but huge amounts of body roll and pitch can be quite unsettling. [Toyota Fortuner India first drive]
Honda CR-V (Rs 24.43 lakh ex-Delhi)
Honda recently launched the latest generation CR-V and to boost sales they began assembling the SUV here in India at their Greater Noida facility. This should have made the pricing more affordable but the market demands had changed to not just affordable pricing but diesel powerplants as well. And a diesel powered CR-V is something Honda unfortunately does not offer as yet. There is talk of it coming in next year but confirmations are due. Still the 2.4-litre in-line petrol found in the top of the line CR-V is silky smooth, an effortless performer and probably one of the best petrol engines available in the Indian market. Mated to the 5-speed automatic transmission, the CR-V offers excellent drivability in urban or highway driving cycles. For those looking to get a bit more efficiency there is the smaller 2.0-litre petrol engine. An eco assist mode in the new CR-V controls various appliances such as moderating the air-conditioning operation or optimising the gear shift patterns to deliver better fuel efficiency.
The CR-V is also backed by a very spacious and luxuriously appointed cabin. Dynamics are well sorted out though there is a bit of body-roll experienced only when you begin pushing the CR-V hard on some nice roads. However you will also experience the solidity and stable composure that makes the CR-V one of the best crossovers in the country. Definitely worth looking at if diesel isn't on your shopping list. [Honda]
Volvo XC60 (Rs 35.25 lakh ex-Delhi)
For sheer style there is little that compares to the Volvo XC60. Sculpted exteriors are juxtaposed with startlingly splendid interiors. A lovely selection of materials for the interiors, beautifully crafted and finished makes this one of the most undervalued SUVs on offer. Powertrain choices arent bad either, you get a choice of two diesels, both 5-cylinder turbocharged units, in different states of tune. All-wheel drive helps put the power and torque down evenly giving it great performance and dynamics. Brilliant steering provides you inch perfect precision and the suspension though not on the stiff side smoothly balances out ride quality with stability.
2014 Volvo XC60
What makes the XC60 stand out though is the raft of features largely safety related. City Safety prevents forward collisions at speeds of up to 50kmph. So even if your attention wavers the XC60 is watching the road ahead for you. Volvo in fact have taken the full kitted route when offering the XC60 in the Indian market. You can also customise your purchase adding from a multitude of comfort, luxury and convenience features. And for audiophiles you get a state of the art Dynaudio system that offers oustanding sound quality. Another of those highly underrated SUVs that is such a terrifically emotional purchase.
Mercedes ML-Class (Rs 60.55 lakh ex-Delhi)
There is a good reason why the Mercedes-Benz M-Class is the highest selling SUV in the premium luxury segment. And while the three pointed star is a good motivator for consumers, it's the terrific engineering, the comfortable and secure drive experience and the peace of mind ownership value that Mercedes has been offering that make a difference. We wouldn't count styling in that equation as that is a wholly personal choice, but having said that you get premium high quality interiors that radiate luxury.
Mercedes-Benz in India offers only the diesel range of 4 and 6-cylinder engines and the top of the range V6 diesel is probably the engine to look into closely. It's good for 250 horsepower with 619Nm of max torque. But forget about the 7.4 second 0-100 acceleration stats, you really won't use it unless you need to get somewhere far in a hurry. That torque on the contrary makes moving this immensely large and heavy SUV through traffic a breeze. Its also got the 7G-Tronic, 7-speed automatic transmission but it's not the quickest automatic we have experienced with the focus more on efficiency rather than straight line performance. The M-Class is something to pamper your senses, forget everything else and feel just how well Mercedes is putting the twinkle back in the star! [Mercedes]
The Land Rover Discovery 4 is another highly underrated though quite an overpriced SUV. At nearly a crore on road, the Discovery 4 is a very expensive purchase. It's not that incredible looking either and the value you place on this is more for function than form. The large brick like body work and that odd rear section with the stepped roof and huge windows makes it look even more ungainly. However don't let it dissuade you if what you want is a supremely comfortable SUV that is also a legendary off-roader.
Build quality is impressive and so is the list of comfort and convenience features that is long and diverse. Loads of interior spaces are marked by high levels of luxury that aren't obvious when seen from the outside. You get adjustable suspension and the Terrain response system which makes it an incredibly capable SUV off-road. You don't have engine options and a V6 diesel is all that you get but its packed with a healthy dose of torque and mated to a slick 8-speed automatic transmission that's good in the city, highways or in the wild.
The adaptive air suspension adjusts ride height depending on the situation so on road you get a well balanced, confident and stable dynamics. This isn't a sports car and neither is it going to blow your mind with 'on-rails' performance but its secure, agile and fun. Buy it and risk wanting to leave home for the adventure of a lifetime!
Range Rover Sport (Rs 1.09 crore ex-Mumbai)
We would have suggested the Range Rover in this list which is the Sport's older and larger sibling but then everything offered there is available in the Sport at half the price. Arguments settled. However not to take anything away from the Range Rover, it is the premier flagship SUV available in the world. We drove it in Morocco and through a terrain that comes with statutory warning advisories for pregnant women and those with pacemakers. Not once did we break into a sweat, the thought that there was some terrain it wouldn't go through or break down in the middle of just did not occur to us. We drove in with clean shirts crisply ironed and walked out the same way. The Range Rover Sport is all of that barring nothing, except for the styling, which we believe is more dynamic and therefore in our eyes nicer.
2014 Range Rover Sport in India
The new Sports also provides an enhanced on road handling experience, it's sharper and more agile than before yet don't expect X6 or Cayenne like physics defying agility. What is immediately apparent is that things are definitely lighter and more responsive as a result. That makes it more valuable, like a trophy wife or supermodel arm candy, except with a lot more grey matter in between the ears in this case. And if there was more to say about the Range Rover Sport, it holds a production record at the Pikes. [Range]
There are more SUVs on their way to India. Check [SUVs coming to India in 2014] to know more about them.
Price (Ex-Delhi)
Starts Rs 95 Lakhs
Price (Ex-Delhi)
Starts Rs 7.99 Lakhs
Price (Ex-Delhi)
Starts Rs 28.27 Lakhs
Price (Ex-Delhi)
Starts Rs 71.38 Lakhs
Price (Ex-Delhi)
Starts Rs 9.8 Lakhs
Price (Ex-Delhi)
Starts Rs 8.49 Lakhs
Price (Ex-Delhi)
Starts Rs 23.84 Lakhs
Price (Ex-Delhi)
Starts Rs 29.98 Lakhs
Price (Ex-Delhi)
Starts Rs 61.9 Lakhs