Best driving roads: Pune to Bhor
The first week with a new motorcycle in the parking is anxiety defined. It may even compare to the first week of matrimony, one imagines; this is where the concept of the honeymoon comes in. Just like getting away for a short time from the mundaneness of chores and spending more time with a new partner eases bonding, a rider with a new motorcycle does not want to spend too much time stuck in the chore of traffic. Thinking that the spanking new engine should settle into its groove in style over the first 1,000km, I ended my first week with the new 2017 KTM 390 Duke earlier this year with a short ride from Pune to Bhor.
New motorcycles need running in, not just for the mechanicals but also for the rider to get accustomed to the fresh machine. To understand the dynamics as well as performance of a quick motorcycle, one needed a route that not only has straight stretches to begin with, but also well-surfaced moderate twisties to better learn how well this new rider-motorcycle combination worked.
The route from Koregaon Park in Pune to Bhor in the Western Ghats divides time equally between a motorway and B-roads of a state highway. And, with a round trip distance of just under 140km, easily accomplishable for a reporter with just one day off work per week. (This was my previous job; current place of employment is best!) The idea was to leave in the afternoon, ride to the Bhatgar Dam via Bhor, catch the sunset here, and return home in time for beverage of choice.
And that is just what we did. On Sunday afternoon, the route begins with negotiating traffic until you hit the turn towards National Highway 79 from under Warje flyover. From here, the road is smooth four-laned tarmac for a few kilometres, and opens up to six lanes near Navale flyover, and the traffic thins out. The surface is incredibly fun to just push the motorcycle on.
Not too quick, though. For, we encounter at least two speed breakers, which add to the minor air time under my belt. The view to your right is of the ghats far into the distance. They get closer and closer until you cross the River Nira.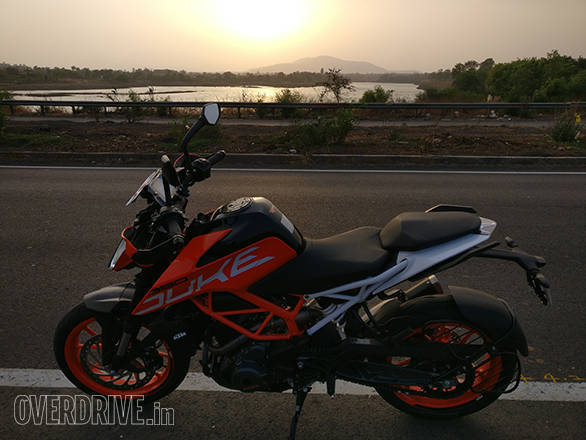 As we turn off the NH79 onto Maharashtra State Highway 70 at Shindewadi, the climb towards Bhor begins. Having spent the previous hour on an open highway, and watching the road suddenly go from six lanes to two in less than a kilometre, takes some getting used to. Not unless you, as I were, just waiting for this all along. The rules change --  moving quickly up this narrow state highway is not as difficult but it takes some getting used to. The edges of the tyres start being used or the first time and it is a great feeling.
Just before we enter Bhor, we stop for a chai and the view. The ride so far has been all about chasing the sun. But a small patch of loose dirt across the road holds promise of a rarer view of the dam and beyond. So we take a slight detour to an unmarked trail across the road from the fuel station beyond Shivaar.
Sure enough, about 4km into the trail, we reach small flat land, and here we capture some great pictures before being interrupted. Just then two men come by and enquire why I am taking pictures. Turns out this entire trail is the village's 'drinking den' and extends to another 8km inwards before reaching a village. I am advised to be careful and I turn back towards SH70. (Note: This trail was a detour from the route. Please be advised to drive there at your own risk.)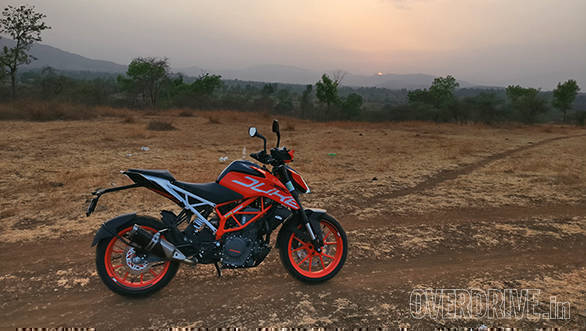 With still some daylight left, a short ride gets us to Bhor, from where we turn towards the Bhatghar Dam. Reaching just in time to capture the sunset, we then make our way back towards Pune, down ghat on Bhor-Kapurhol Road, before turning back onto NH79.
If you are keen on catching a heritage site as well on the way back and have driven or ridden here with more daylight left, turn towards Saswad and find the Purandar Fort. It will not disappoint. Time to trundle back to the city through traffic. Until the next weekend.
Route (Round Trip):
Pune (Koregaon Park) - Warje flyover (NH79) - Shindewadi (SH70) - Bhor - Bhatghar Dam - Purandar Fort - Saswad - Hadapsar - Pune (Koregaon Park).
Total Distance: 138km (round trip)
Words: Abhishek Samuel
Price (Ex-Delhi)
Starts Rs 2,52,928
Related Stories