Bernie Ecclestone indicted by German court on criminal charges
Bernie Ecclestone is a canny businessman, credited with taking charge of Formula 1 and converting it into a viable business that generated millions of dollars of revenue through television rights. But his career has been chequered with shady deals and controversies aplenty. The latest of which sees Ecclestone indicted in a bribery case. The 82-year old President of Formula One Management has been accused of bribing Gerhard Gribkowsky, the former risk officer of BayernLB.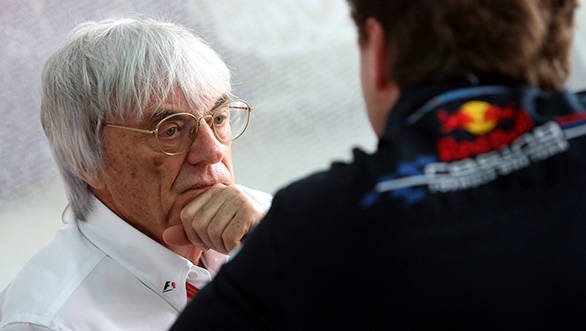 Bernie Eccelstone
While the charges initially emerged in November 2012, in May this year it was announced that prosecutors in Munich had filed charges against Ecclestone, which meant he could be arrested if he entered Germany. Naturally, no one expected Ecclestone to make it to the German Grand Prix at the Nurburgring this year, but the F1 chief did exactly that. Now, however, Ecclestone has been formally indicted in Germany, which means the German authorities can ask British authorities to arrest him. Uh-oh.
But there's a tremendously long back story to this case. You have to realise, a man like Bernie Ecclestone doesn't just go around throwing $44 million at people for, ahem, trivial reasons. Let's take a look at what the timeline for this Ecclestone controversy is.
December 2004
Bernie Ecclestone loses his legal control of Formula 1 to a Bank Group comprising JP Morgan Chase Bank, Lehman Commercial Paper and BayernLB. The bank group had acquired a 75 per cent share in Speed Investments Limited (the holding company that then controlled Formula 1). The remaining 25 per cent of the company would continue to be owned by the Ecclestone family.
Around the same time
Meanwhile JP Morgan Chase and Lehman Commercial Paper attempted to convince John Gregg to buy the Bank Group's stake in Formula 1. John Gregg in turn attempted to acquire this stake through a company called Bluewaters Communications Holdings LLC. With the support of JP Morgan and Lehman, Bluewaters then tried to convince BayernLB and its risk officer Gribkowsky to sell the group's stake in Speed Investments Limited to them.
April 2005
BayernLB acknowledged Bluewaters interest in acquiring the 75 per cent stake in Speed Investments Limited, also stating that they would proceed with their decision if Bluewaters met certain specified conditions.
November 2005
Bluewaters offered to buy the Bank Group's share of Speed Investments Limited for a sum of one billion dollars. They also declared that they were willing to pay 10 per cent over and above any other genuine offer to buy the stake from any other interested party.
November 25th, 2005
CVC Capital Partners Ltd declares that they have bought the 75 per cent stake in Speed Investments, essentially the controlling stake in Formula 1. They also announced that they had decided to retain Bernie Ecclestone, allowing him to run Formula 1. What this also meant was that Bernie Ecclestone continued to run the show in Formula 1.
Where it got fishy
CVC Holdings had apparently made a payment of $65 million to Bernie Ecclestone. What Ecclestone did to deserve that massive sum of money is still not understood. However, it later came to light that Ecclestone had paid Gribkowsky $44 million in order to swing BayernLB in favour of CVC, who were then retaining him to run the show. Ostensibly, this money came from the CVC payment to Ecclestone. Ecclestone would still hold all the strings to his own personal F1 marionette show.
Why Bluewaters got suspicious
Given that Bluewaters had already gained the support of JP Morgan and Lehman, they also had the right to evoke first refusal when the third party Bayern decided they wanted to sell the stake to CVC. Given that Bluewaters had stated they were willing to pay 10 per cent over and above any offer made by any other party, it would have made sense for the Bank Group to consider their offer, or perhaps even start a bidding process. However, there was already a structure in place that allowed Bayern to avoid any 'first refusal' situation. It was only when Gribkowsky was arrested and sentenced to 8 and a half years of prison that Gregg realised why Bluewaters lost the deal to CVC Capital.
Ecclestone's version
While Gribkowsky accepted the charges that were leveled against him, Bernie had another version of the tale. He declared that he paid Gribkowsky not as a bribe, but because the lawyer had attempted to blackmail him about a family trust that was in the custody of Slavica Ecclestone (something that had nothing to do with the case).
Now, however, the Munich prosecutors are naming Ecclestone as a co-perpetrator in the case.
What this means for Formula 1
Like we said earlier, Bernie Ecclestone is a canny old businessman. For someone who started life as the son of a trawlerman, to take control of the one of the world's most expensive sport is tremendous. Indeed, Ecclestone might have the best of lawyers at his disposal, but getting out of this one won't be easy. The sport will feel the repercussions of the the case should Ecclestone end up in jail. What those repercussions are, however, we'll have to wait and see.