Bentley releases teaser image of its SUV, launch in 2016
Luxury car maker Bentley has shown a teaser image of its all-new SUV which will be launched in 2016. The manufacturer has not put a name to the model yet but it surely won't be based on the EXP 9F concept which debuted at the 2012 Geneva Motor Show and was Bentley's first design attempt at an SUV. The reason that the upcoming SUV will not be based on the EXP 9F is because it met with a disastrous response and sharp criticism forcing the designers to get back to the drawing board.
The teaser image shows the front view of the SUV and from this angle the car does not seem any different than the Continental GT or Flying Spur models. It features the classic, imposing matrix grille and twin headlamps.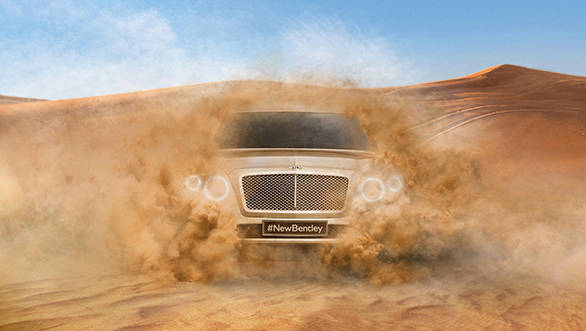 The power for the SUV is likely to come from a twin-turbocharged 4.0litre V8 for the base variant with a twin-turbo W12 getting under the hood of the top spec variant.
Bentley is hoping that after the launch this model can garner sales of up to 3000 units a year, which if happens, will make this the company's most successful offering. Pricing has not been disclosed yet but we expect it to be in the range of 2,00,000 dollars (Rs 1,22,32,000) without duties considering the fact that this will be a very luxurious SUV from the renowned luxury car maker.
FIRST GLIMPSE OF BENTLEY SUV
(Crewe/London, 19 March 2014) Bentley Motors today releases the first picture of the Bentley SUV, due to hit roads in 2016. It will be the most luxurious and powerful SUV on the market, setting it apart from any other SUV, true to the brand hallmarks of luxury, performance, quality and craftsmanship. Dr Wolfgang Schreiber, Chairman and Chief Executive at Bentley Motors, commenting at a press conference in London, said: "It will create a completely new segment in the SUV market." The SUV forms part of Bentley's £800 million investment in new model and facilities development in the next three years. The company anticipates a minimum annual sales volume of 3000 SUVs. - ENDS -