Bentley Continental GT3 is almost track-ready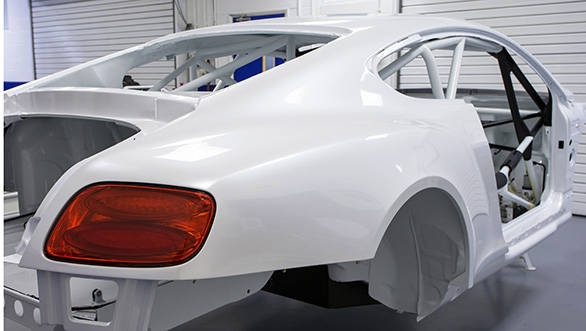 Bentley GT3 racer
Bentley has announced its Continental GT3 racing car is almost competition ready, less than a year after the GT3 Concept Racer was unveiled at the 2012 Paris Motor Show.
The GT3 Racer Concept that debuted at the Show last year, was centred on the iconic Continental Grand Tourer, but is progressing thanks to the importance given to the development of its racing inheritance.
"Motorsport is an integral part of Bentley, and the performance and endurance qualities of all of our road cars reflect this racing heritage," stated project leader Brian Gush, Bentley's Director of Motorsport. "Not one single part of the GT3 has escaped our attention, and the result is a car that can compete with the field in terms of factors such as power, weight and aerodynamics," said Gush, who is also the last man to helm the company to victory in a Bentley racer during Le Mans in 2003.
Fuelling the race car will be an altered version of Bentley's twin-turbocharged 4.0-liter V-8 engine, currently found in the Continental GT V8. The race car will be rear-wheel drive and use a six-speed sequential gearbox.
Double wishbone suspension, four-way adjustable dampers and race brakes make up the running gear, while more than one tonne of weight has been saved over the Continental GT road car by removing many of its electrical and luxury features irrelevant to the racing game. A majority of the body is also carbon fibre and a full roll cage has been installed, helping increase stiffness and enhance safety. The unique silhouette of the car remains the same.
A track debut is planned for the end of this year, ahead of a full racing schedule in 2014. Though Bentley's race car is being designed to FIA GT3 standards, it is still unconfirmed as to what race format it will contend in.
Price (Ex-Delhi)
Starts Rs 3.29 Crore