Bentley Bentayga Speed SUV will have more muscle and big change in its design
Bentley Motors Limited is among the luxury car brands that have only in recent years added a sport utility vehicle (SUV) to its lineup, with the Bentayga. It has been a hit, with its performance and briefly-held Nurburgring lap record. The Bentayga is rumoured to be aiming for the Pikes Peak hill climb SUV record next. And while the Rolls-Royce Cullinan remains to be topped in terms of outright luxury yet, Bentley seems to be aiming to out-muscle its competitors at the top of the SUV food chain, with a Speed version. Bentley design chief Steven Sielaff has confirmed that a more muscular Bentley Bentayga Speed is under development. It was only recently that the Bentley Bentayga V8 was launched in India.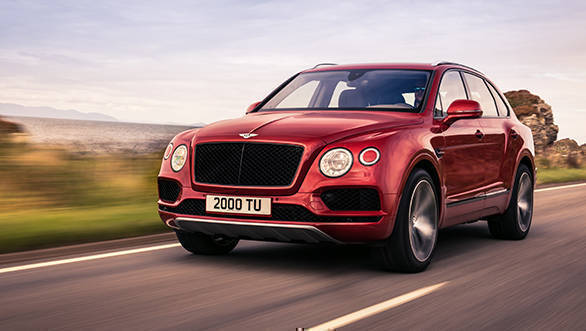 Bentley Motors recently launched the Bentayga V8 petrol SUV in India
Sielaff has said that brand loyalists should expect a big design change with the Speed version of the SUV. The new SUV will have a big design change, he said. We interpret this as a more aggressive style with fatter, bigger wheels and tyres, a sportier and lowered fascia with bigger air dams, and sharper body lines, and possibly a lowered, stiffer ride.
That is only the cosmetics. Sielaff also claimed that the Bentayga Speed, which will come powered by the same twin-turbo W12 as the top of the line variant of the SUV, will also sport added ponies. In its current form, it already makes 608PS, while its platform-sharing Lamborghini Urus features the same engine with a 650PS output. Expect the Bentayga Speed to sport a similar or higher power output.
Since the final product is not ready, there is no date for release yet. But an early 2019 reveal is likely.
Price (Ex-Delhi)
Starts Rs 4.1 Crore
Price (Ex-Delhi)
Starts Rs 3 Crore