Bentley Bentayga diesel engine details revealed
The Bentley Bentayga is one mammoth whose launch caught the attention of the entire world. Well, it was expected to do so since it is the first Bentley SUV. What also made eyes roll was its engine specifications. The Bentley Bentayga petrol, which we have reviewed is powered by a 6.0-litre twin-turbocharged W12 engine which produces 608PS and 900Nm of torque. Bentley says that the Bentayga petrol is the fastest SUV money can buy for it does 0-100kmph in 4.1s and attain a top speed of 301kmph.
Now, jaws are going to drop further as Bentley has revealed details of its first diesel engine which will be offered on the Bentayga. The Bentayga diesel gets a 4.0-litre, V8 engine with two variable-geometry, sequential twin-scroll turbochargers and a third electric supercharger. Bentley says that its all-new diesel engine generates a class leading 435PS of power and 900Nm of torque. The electric supercharger is powered by a 48V system and spools up within 30 milliseconds to put an end to turbo lag.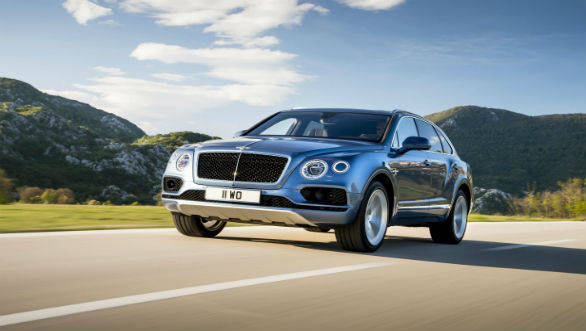 The Bentayga diesel claims to accelerate from 0-100kmph in 4.8s and attain a top speed of 270kmph. Apart from delivering a typical Bentley driving experience, the carmaker says that the Bentayga diesel will offer a range of over 1,000 kilometres! What's even more mindblowing is Bentley's claim that 900Nm of peak torque is available from as low as 1,000 rpm. This is expected to improve on-road as well as off-road performance of the Bentayga diesel. The engine is mated to a 8-speed automatic gearbox from ZF and power gets sent to all four-wheels. The carmaker has acoustically engineered the exhaust system to keep noise to a minimum and ensure class-leading refinement.  Also, the Bentayga diesel will have the lowest CO2 emissions of 210 g/km amongst all Bentley models.
To distinguish it from the petrol version, the Bentayga diesel will get a V8 badge embedded on the edge of the lower front door and a black matrix grille with chrome surround and central bar. Bentley has stated that it will begin deliveries of the Bentayga diesel by early 2017 in Europe. It will then be introduced in Russia, South Africa, Australia, New Zealand, Taiwan and other planned markets.
Price (Ex-Delhi)
Starts Rs 4.1 Crore