Bentley Bentayga breaks Pikes Peak SUV hillclimb record
The Bentley Bentayga SUV that the company had recently prepared to run in the Pikes Peak hill climb has met its brief. The SUV beat the earlier record set in 2014 by Land Rover in a Range Rover Sport, completing the course in 10m 49.9s.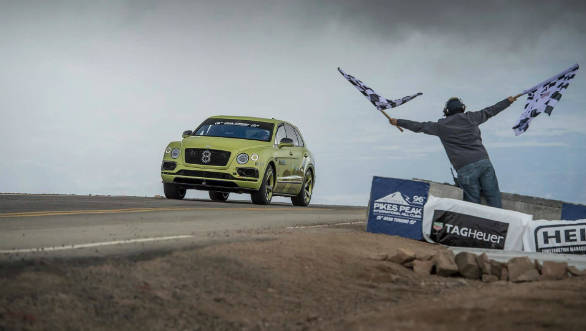 The Pikes Peak Bentayga retained the 608PS, 900Nm 6.0-litre twin turbo W12. But changes were made to it to make it more competitive. The Pikes Peak Bentayga was stripped of its interior trim. Losing the wood, seats, leather and sound deadening led to a 300 kg weight saving. A full roll cage, race seat and fire extinguisher system was fitted to meet regulations. Other notable changes were an Akrapovic exhaust for better breathing and Bentley's Styling Specification package. This added carbon fibre bits like a front splitter, rear diffuser, side skirts, and rear spoiler.
To give itself the best possible chance to set the new record for the fastest production SUV up the mountain, Bentley is using the top-spec W12 version of the Bentayga for this attempt. Piloting the SUV will be the Rhys Millen, the New Zealander who has won Pikes Peak twice outright. This turned out to be the right decision, they beat the earlier record by two minutes.
The international Pikes Peak hill climb (also known as 'The Race to the Clouds') has been held since 1916 near Colorado Springs in the Rocky Mountains, USA. The 19.9km route runs from the start-point at an altitude of 2,800m to the summit at 4,300m above sea level, with drivers having to negotiate 156 turns along the way. The event is one of the better known hill-climb events on the international motorsport calendar and has seen credible performances from manufacturers like Audi, Peugeot, Toyota and Suzuki.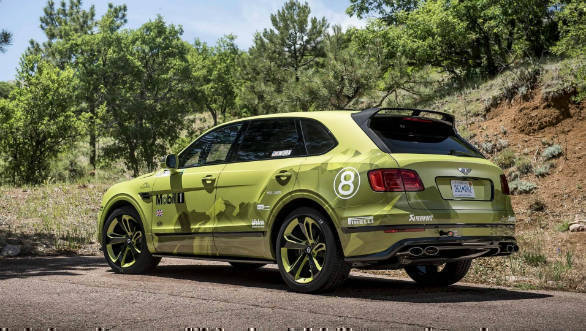 Price (Ex-Delhi)
Starts Rs 4.1 Crore