BattRE electric scooters priced at Rs 65,000 in India
Jaipur based start-up, BattRE has launched their range of electric scooters in India priced at Rs 65,000. The company has been in the e-mobility space with their e-cycle. The BattRE electric scooter does not get a name but is called the e-scooter for now. It comes with features such as keyless start, under-seat storage, USB port, rear reverse and a motorcycle-like handle. The start-up has launched the e-scooter in the cities of Nagpur, Hyderabad, Anantpur and Kurnool. The brand is in the process of setting up charging stations across the country and also plans to launch the e-scooter in different cities in India.
The BattRE e-scooter comes with a digital display, which shows battery usage, speed, temperature, odometer and faults, if any. It also comes with safety features like day running lights, rear reverse, anti-theft alarm with tyre lock, front and rear disc brakes, and broad tubeless tyres. The company claims that its e-scooters will be powered by lithium iron phosphate batteries instead of the lead-acid batteries - thereby providing superior performance and longer operational life. The batteries of this scooter will power it for about seven years depending upon the usage. BattRE is working on the new innovative feature of building IOT (Internet of Things) connected Electric Scooter supported with a Mobile App which will be launched soon. The e-scooter uses cloud-based GPRS to connect with a smartphone app and store all vehicle-related data online. According to a study, Indian Electric Two-Wheeler market is expected to grow with a CAGR over 40 per cent during the forecast period 2018-2025. In India, it is estimated that the sales of electric scooters will cross two million a year by 2025.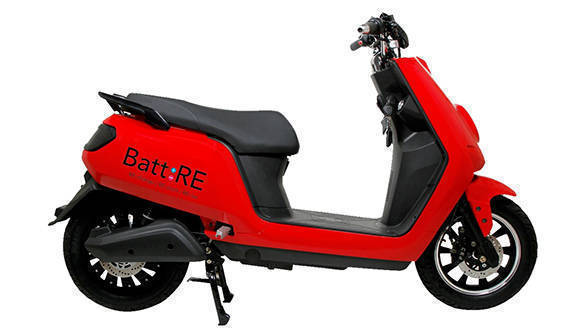 In terms of specifications, the BattRE e-scooter weighs 65kg and a single charge riding range of 90km. It makes use of 48V 30Ah Lithium Iron Phosphate battery which takes a total of 4 hours to charge completely. The e-scooter is offered with front and rear disc brakes and 90/100 R10 tubeless tyres and has a ground clearance of 150mm.
"The global e-mobility market is experiencing phenomenal growth due product innovations and change in policies. We are expecting to see the reverberations in the Indian market too. Our aim is to not only build an e-vehicle but also to offer an entire eco-system thereby ensuring that the consumer enjoys a complete e-mobility experience. We are also committed in building a world-class distribution and after sales service network," commented Nishchal Chaudhary, Founder of BattRE Electric Mobility.