Bajaj-KTM developing e-mopeds for India, expected launch in 2022
Indian two-wheeler major Bajaj along with KTM will get into production of e-mopeds which will essentially be low electric powered mopeds, e-bikes and scooters. These will be manufacturers in India at Bajaj's Chakan facility in Pune and will be exported to the international markets as well. This was confirmed as the recently released FY20 annual report of Pierer Mobility Group (formerly known as KTM Industries AG) which is the holding company for brands like KTM, Husqvarna, GasGas and WP Suspension.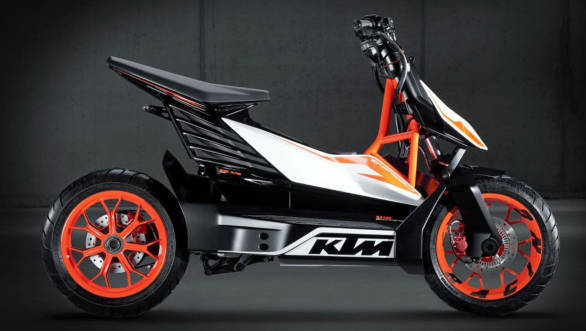 The report mentions, As part of a series development project for powered two-wheelers (PTW) electric vehicles in the low-voltage range (48 volts), which was developed together with the Indian partner Bajaj, various product variants in the segment of electro scooters will be produced from 2022 under the brands of both partners in the 3 and 10 kW power range.
Bajaj Auto entered the two-wheeler EV segment with the Chetak, earlier this year that competes with the likes of TVS iQube and the Ather 450X. The company is manufacturing the Chetak in India and has plans of exporting it to international countries as well. During the unveiling of the Chetak, Rahul Bajaj, Managing Director, Bajaj Auto had mentioned of KTM's interest in the Chetak EV platform, which could also be used for a KTM branded power scooter.
The annual report also mentions of the launch Husqvarna motorcycles and the aggressive market strategy in emerging markets are a key focus for 2020. The relocation of the production of Husqvarna motorcycles (up to 400 cm3) to Bajaj Auto was successfully implemented at the end of 2019, will also give KTM the opportunity to produce entry-level motorcycles for the Husqvarna Motorcycles brand at competitive production costs and therefore further increase sales in the emerging market. Taking into account the motorcycles sold by Bajaj in India, the Group achieved record sales of 280,099 motorcycles in total. With 234,449 KTM motorcycles sold and 45,650 Husqvarna motorcycles sold, the sales volume increased by around 7% compared to the previous year. For the further expansion, around € 121 million was invested in product development (including tools) in 2019.