Bajaj issues status report of strike at Chakan plant
July 17, 2013
PRESS NOTE ON BAL CHAKAN STRIKE FROM 25th JUNE, 2013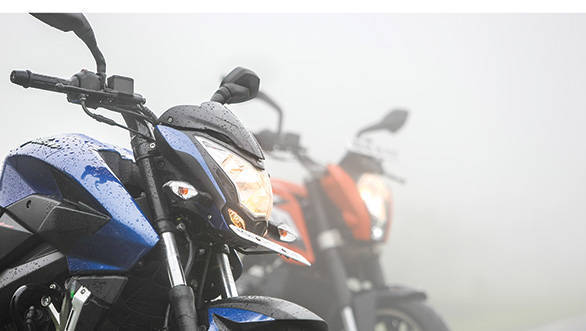 Part production of Pulsar has been shifted from Chakan to Waluj
Deliberate production loss started from October, 2012. There was 20% less production in one particular shift. However, in other shift production was normal.

Counseling  of employees at individual level was done and  various meetings with Union  were held  at plant level and with central leadership  for improvement.

In view of  no improvement in production and  indulgence of  employees in acts of indiscipline, first suspension pending enquiry was done on 25th October, 2013.

There was no improvement  and further deterioration in production continued.

Again meetings were held with union on 24th Nov. 2012, 1st Dec. 2012, 9th Jan. 2013 & 8th Feb, 2013 were conducted for improvement.

Mr. Dilip Pawar (Union President)  did not find time has not visited plant from  last 1 year to resolve the issue.

On 2nd March, 2013 the union was informed about the progress of survey and willingness of the management to initiate the process of wage review, subject to condition that normal production & discipline should be restored.

However, the Union has unilaterally terminated the settlement on 9th March, 2013 itself. The union has submitted a fresh Charter of Demands (COD). The Termination of settlement is unlawful as per the provisions of the Industrial Disputes Act, 1947. The Company  has  filed a case in Industrial Court , Pune against unlawful action of the Union.

Subsequently  meetings  were  also held on 20th May and 27th May, 2013, 4th June, 2013 & 20th June, 2013 with Union representatives.

Notice of Stoppage was given by Union on 14th June, 2013 demanding 500 shares @ Rs. 1/- for all employees.

The date of strike mentioned in the letter was 28th June, 2013. However, the strike commenced with effect from 25th June, 2013. The Company has filed a case for declaring the strike as illegal in Labour Court, Pune.

To enforce the strike intimidation and violence against the employees willing to attend work has continued. So far 23 complaints have been lodged in various Police Stations and 15 employees have been arrested.

Total 21 employees have so far been suspended pending enquiry.

There has been continuous improvement in employees attendance at Chakan from 25th June, 2013 onwards.

Part  production of Pulsar is shifted to Waluj Plant. On 15.07.2013, 1262 Pulsar vehicles were produced at Waluj.

Subsequent to strike there have been three meetings with Union. However, the union  has always been unreasonable during these meetings . (One at Chakan Police Station on 28th June, 2013 and two meetings in the Office of Dy. Labour Commissioner  on 10th & 12th July, 2013 respectively). Hence not much progress has happened in our talks.

Violence Continues :
1)      On 14th July, 2013, 4 Akurdi employees were assaulted by 8 unknown persons near Mega Mart, Dapodi.
2)      On 14th July, 2013,  three Akurdi employees were assaulted by unknown persons near Khandoba Mandir, Akurdi.
3)      On 14th July, 2013, Two Chakan Trainees were  threatened and thrashed in Yamuna Nagar area.
4)      On 15th July, 2013, Mr. Ramchandra Jadhav was threatened and assaulted in Talegaon. FIR is lodged at Talegaon Police Station against Mr. Vaibhav Kumbhar and Shivaji Pawar.
Our road map for resolution of the issue is as under :
a)      Company will not agree to allotment of shares  (ESOPs) to workers.
b)      Production and discipline has to be restored to normal before meaningful dialogue can take place.
c)      Suspension pending enquiry cases will be reviewed by the management and only those cases in which misconduct is not serious  or past record of employee is good will be taken back provided they accept their mistakes in writing . In  all others cases, the final decision will be taken based on findings in domestic enquiry
d)      Management is always keen on timely completion of salary review process and is eager to conclude the process at the earliest.