Automobile events this week: September 25 - October 1
There is so much happening in the world of automobiles. From the launch of the 2017 Maruti Suzuki S-Cross facelift, unveiling of the Triumph Bonneville Speedmaster to the final round of the MRF MMSC FMSCI Indian National Motorcycle Racing Championship 2017, and the Formula One Malaysian GP, as well as a host of upcoming auto shows and events, there is much for you to do. OVERDRIVE helps you stay up to speed with this quick rundown of all things automotive happening from September 25 to October 1, 2017:
September 28: 2017 Maruti Suzuki S-Cross facelift launch
Event type: Product launch
Location: Pan-India
What is it?
The design of the previous generation Maruti Suzuki S-Cross had been getting a little long in the tooth and the company has decided to the facelift that we saw at the 2016 Paris Motor Show. The changes may not be plentiful, but they are enough to lend the 2017 S-Cross a fresh, bolder look and will catch up to the growing competition.
Can you go?
The launch is expected to an online affair. OVERDRIVE will keep you posted and bring you all the news and details about the Maruti Suzuki S-Cross facelift. So stay tuned.
September 29 - October 1: 2017 MRF INMRC Round 5
Jagan Kumar scored a double in the Super Sport Indian (up to 165cc) class in Round 4
Event type: Circuit race
Location: Madras Motor Race Track, Chennai
What is it?
The race for the championship has seen a major swing with defending champion Jagan Kumar cutting leader Rajiv Sethu's points lead down to one in the Super Sport Indian (up to 165cc) class in the previous round of the MRF MMSC FMSCI Indian National Motorcycle Racing Championship 2017. With the Round 4 ending on a cliffhanger, the final round can only get better!
Can you go?
Yes, you can! The MMRT at Irungattukottai near Chennai is open to all racing enthusiasts. We have it on good authority the only thing better than a weekend at the races, is racing. So while it may be too late to enroll this season, you can see champions being feted in the various classes.
September 28 - October 1: F1 Malaysian GP
Third-place finisher Valtteri Bottas sprays the bubbly on Mercedes team-mate Lewis Hamilton who won the 2017 Singapore GP earlier this month
Event type: Circuit Race
Location: Sepang International Circuit, Malaysia
What is it?
The epitome of motorsport, Formula One is turning out to be more dramatic as the 2017 season boils down to the last six races. Brit racer Lewis Hamilton won the last GP in Singapore and leads the Championship while Sebastien Vettel is less than 30 points behind him. It will definitely be a race to watch.
Can you go?
Yes, if you can manage to score passes to the Malaysian GP and get visa and tickets by the weekend. Otherwise, Stay tuned to OVERDRIVE for live updates on the race. You can also watch the races on Star Sports Select HD channel on TV as well as on the Hot Star Premium App on your smartphone.
October 3: Triumph Bonneville Speedmaster launch
Event type: Product launch
Location: Triumph Factory, Hinckley, UK
What is it?
The British motorcycle maker is looking to expand its horizon beyond the pond and launch a proper cruiser motorcycle. Based on the Bonneville Bobber, the Triumph Speedmaster is expected to take on the Harley-Davidsons and the Indians. With a relaxed stance and highway-friendly tune to the 1200cc engine, we can already see ourselves on a long winding highway on this one.
Can you go?
Well, Triumph has sent out limited invites. Fret not, OVERDRIVE is going and as always we will bring the updates and details as they happen!
Registrations Open:
September 30 - October 1: TWO Track Riding School - Level 2
Event type: Track riding training
Location: Kari Motor Speedway, Coimbatore
What is it?
Throttle Wide Open (TWO) is India's first track riding school, where you will learn the art of riding your motorcycle to the limit in a safe, quick, and smart way from motorcycling gurus including Anand Dharmaraj and our executive editor Shubhabrata Marmar. This Level 2 course teaches you advanced body position, quick turns, pivot steering, and taking the smoother, faster line through each corner among a host of pro skills.
Can you go?
Of course, but you will have to hurry. Registrations are open on the IndiMotard website for only 30 spots in all for the session from September 30 to October 1, 2017. The Open Session costs Rs 8,500, while the Level 2 training course will cost Rs 13,500. However, you must have completed the Level 1 training to be eligible. Bring a motorcycle and an open mind.
October 7 - 8: Royal Enfield Escapade - Western Ghats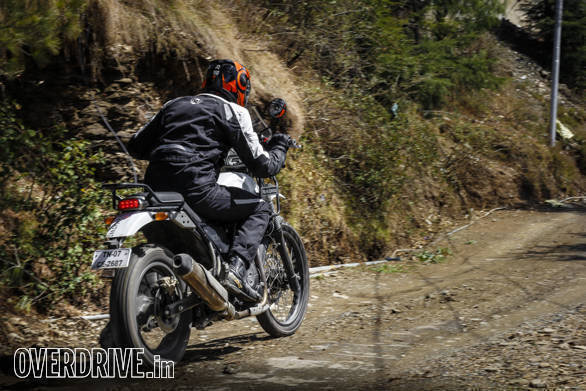 Event Type: Overnight ride and camping
Location: Mumbai - Lonavla - Mumbai
What is it?
The first weekend of October will be a great time to ring in winter with a ride, trek, overnight camp, bonfire and barbecue in the beautiful Western Ghats. Even better, you will meet like-minded motorcyclists to share the experience.
Can you go?
Yes, as long as you are a Royal Enfield owner. You take your partner or a friend along and it will cost you Rs 6,000 for a shared tent. If you want to go solo, the registration is priced at Rs 3,000. We recommend you take a friend along to click your next profile picture! Register here.
November 24 - 25: India Bike Week
Event type: Motorcyclist gathering
Location: Goa, India
What is it?
Well, to put it mildly, it is the loudest, largest and most fun-filled gathering of bikers in the country if previous editions are anything to go by. A weekend of sun, sand, music and of course, lots of hugging and fist-bumping with fellow bikers. The custom motorcycle competition has been known to bring out some truly beautiful and outrageous creations.
Can you go?
Yes, you can. Whether you want to ride there or fly, there is something for every kind of motorcyclist there, er, except for those who don't like to party. You can register at the India Bike Week page here.
Later:
October 27 - November 5: Tokyo Motor Show 2017
Event type: Auto show
Location: Tokyo Big Sight, Japan
What is it?
Don't you know what Tokyo Motor Show is? It's only the last big Motor Show on the calendar and the best platform for all Asian and other manufacturers to showcase their latest developments, concept cars, and upcoming models. If the recent International Motor Show 2017 (IAA) in Frankfurt, Germany was any indication, expect to see some super sleek electric and hybrid vehicles of the future.
Can you go?
You must, if you like automobiles and sushi as much as we do! Check out the official Tokyo Motor Show 2017 page to know more. We will be there to bring to the latest updates, of course. So stay tuned to OVERDRIVE.
November 6 - 12: EICMA 2017
Event type: Motorcycle exhibition
Location: Fiera Milano, Italy
What is it?
The 75th Worldwide Motorcycle Exhibition 2017 also known as EICMA 2017 is where motorcycles come to gain their name in the world, even before they hit the streets. This exhibition is where the motorcycle manufacturers showcase their latest technological marvels on two wheels. It is heaven for anyone with a two-wheeled inclination.
Can you go?
Yes, you can. There is enough time to plan a trip, and you can even convince your family to come along under the guise of an 'Italian getaway'. Thank us later. OVERDRIVE will also be there, so stay updated on the latest launches at EICMA 2017 with us. To know more about the event, see their page here.
Price (Ex-Delhi)
Starts Rs 8.39 Lakhs
Price (Ex-Delhi)
Starts Rs 12,15,800
Price (Ex-Delhi)
Starts Rs 11,33,700