Automobile events this week: September 10 - 16
There is so much happening in the world of automobiles. From the reveal of the 2019 Ducati Scrambler 800, to action from the Formula 1 Singapore Grand Prix as well as track riding school and ride experiences, there is much for you to know, see and do. OVERDRIVE helps you stay up to speed with this quick rundown of all things automotive, happening from September 10 to 16, 2018:
September 10: 2019 Ducati Scrambler 800 reveal
Event type: Product unveiling
Location: Global
What is it?
Just after Ducati India launched the Scrambler 1100 in India, it may be time for its middleweight sibling to get an update globally. From the promotion material, the Ducati Scrambler 800 will undergo a design upgrade which can be seen with some of the restyled components. We also believe that Ducati will update the 803cc motor and make it more powerful and torquey than before, to bring in more excitement to the junior Scrambler. A significant upgrade should justify the Scrambler 800 entering its fifth year in 2019.
Sep 14 - 16: Formula 1 Singapore GP
Event type: Circuit Race
Location: Marina Bay Street Circuit, Singapore
What is it?
The gap between Lewis Hamilton at the head of the championship standings, and Sebastian Vettel, his title rival, has been steadily increasing. After the Mercedes driver won the 2018 Italian Grand Prix, he's at the head of the standings with 256 points, while his Ferrari rival is 30 points adrift. As the F1 circus heads to Marina Bay in Singapore, things are really heating up. Vettel is the most successful driver at the 5.073km long track, having won there four times in the past. Hamilton has won thrice. Mercedes and Ferrari have each managed to rack up three wins in past editions of the Grands Prix. Who will win this one? We'll have to wait and see.
Can I go?
A night race on a street circuit? Yes, of course. Marina Bay is one of the few race locations that does more for F1 than the other way around. The main event is the race, but the celebrations that accompany are worth their own story. Some of the top musical acts will be performing during the weekend. And this is the best time of the year to visit Singapore. So what are you waiting for? Details here.
Upcoming events:
Sep 24-25: TWO / OVERDRIVE track riding school - Level 1
Event type: Track riding training
Location: Madras Motor Race Track, Chennai
What is it?
Throttle Wide Open (TWO) is India's first track riding school, where you will learn the art of riding your motorcycle to the limit in a safe, quick, and smart way from motorcycling gurus including Anand Dharmaraj and our editor Shubhabrata Marmar. This Level 1 course teaches you all the basics of riding on a racetrack.
Can I go?
Of course, but you will have to hurry. Registrations are open on the IndiMotard website for only 30 spots in all for the Level 1 Session. The Open Session costs Rs 14,900, while the Level 1 training course will cost Rs 19,900. Bring a motorcycle and an open mind.
October 13-14: Ducati India's first edition of DRE Track Days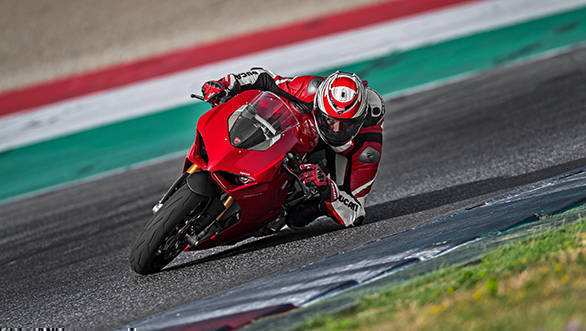 Event type: Track riding training
Location: Buddh International Circuit, Greater Noida
What is it?
Ducati India has just announced that it will be hosting the first edition of its Ducati Riding Experience (DRE) Track Days in the country next month. The company is inviting Ducati motorcycle owners and non-owners for the track days. Participants will also get a chance to have a go at the Ducati Panigale V4, 959 Panigale, or the SuperSport for an additional charge. And if you must learn the skill of the track, no one better than Ducati test rider Alessandro Valia to lead you on.
Can I go?
Yes, you can! Participation will cost Ducati owners Rs 10,000 in addition to charges for riding the flagship Ducati motorcycles at the track. For non-Ducati riders with motorcycles of 600cc or above, the fees start at Rs 10,000 with two track sessions and two laps on a flagship motorcycle, instead of three each for the Ducatisti. Contact Redline Racing Store at +91-9810083296 and +91-9899562622 for registration and details.
Price (Ex-Delhi)
Starts Rs 15,30,000
Price (Ex-Delhi)
Starts Rs 7,99,000
Related Stories