Automobile events this week: October 23 - 29
There is so much happening in the world of automobiles. From the launch of the Land Rover Discovery to motorsport action from MotoGP Malaysia and Formula 1 Mexico GP and the WRC Rally Great Britain, as well as a host of upcoming auto shows and events, there is much for you to know, see, do. OVERDRIVE helps you stay up to speed with this quick rundown of all things automotive happening from October 23 to 29, 2017:
October 27 - November 5: Tokyo Motor Show 2017
Event type: Auto show
Location: Tokyo Big Sight, Japan
What is it?
Don't you know what Tokyo Motor Show is? It's only the last big Motor Show on the calendar and the best platform for all Asian and other manufacturers to showcase their latest developments, concept cars, and upcoming models. If the recent International Motor Show 2017 (IAA) in Frankfurt, Germany was any indication, expect to see some super sleek electric and hybrid vehicles of the future.
Can you go?
You must if you like automobiles and sushi as much as we do! Check out the official Tokyo Motor Show 2017 page to know more. We will be there to bring you all the live updates, launches and announcements from the show, of course. So stay tuned to OVERDRIVE.
October 28: Land Rover Discovery launch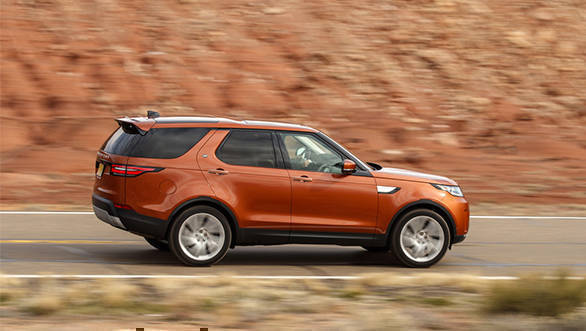 Event type: Product launch
Location: Pan-India
What is it?
The fifth generation of Land Rover Discovery, one of the first SUVs to feature seven seats will be based on the Premium Lightweight Architecture (PLA). Land Rover has sold 1.2 million units of the Discovery aka Disco over the past 27 years. It will be 140mm longer, and a little shorter than its predecessor.
Can you go?
Well, this will be a media-only event. Fret not, we will be there to bring you the latest updates, details, and price as the launch takes place. So stay tuned!
October 27 - 29: MotoGP Malaysia
Andrea Dovizioso had taken a fine win at a very wet Sepang during the 2016 season
Event type: Circuit race
Location: Sepang International Circuit
What is it?
The MotoGP Malaysia will be the second last race before the season ends in Spain, and a bag full of surprises, this season has been. The 2017 MotoGP championship had been led by Marc Marquez, while Ducati's Andrea Dovizioso cut the points gap down to 11 with after the Japanese GP.
Can you go?
Yes, you can if you can get passes to the race and a visa as well as flight tickets for this weekend. Alternatively, stay tuned to OVERDRIVE as we will be there to bring you live updates straight from the pit lane on race day!
October 26 - 29: BMW Motorrad International GS Trophy Indian qualifier
Event type: Customer competition
Location: Goa
What is it?
An event where all BMW GS owners from India can participate. The top three from this round will represent India at the BMW Motorrad International GS Trophy to be held in Mongolia in 2018. The BMW Motorrad International GS Trophy will include seven days of riding over a near 2,000km course.
Can you go?
Yes, if you happen to be the owner of a BMW Motorrad GS motorcycle. However, there are a set of rules you must follow, and the motorcycle or the competition will be provided by BMW Motorrad. You can register here.
October 27 - 29: F1 Mexico GP
Lewis Hamilton on his way to victory at the 2016 Mexican GP
Event type: Circuit race
Location: Autodromo Hermanos Rodriguez, Mexico
What is it?
The 2017 season of the epitome of motorsport, Formula 1, has been high on drama. With only three races left in the season, the F1 Mexico GP will provide plenty of racing action for motorsport enthusiasts. Championship leader Lewis Hamilton had taken his eighth win of the season in Japan, widening the points gap with closest contender Sebastian Vettel.
Can you go?
Yes, if you can manage to score passes to the Mexico GP and get visa and tickets by the weekend, and love tequila, sombreros, and quesadillas. Otherwise, stay tuned to OVERDRIVE for live updates on the race. You can also watch the races on Star Sports Select HD channel on TV as well as on the Hot Star Premium App on your smartphone.
October 27-29: WRC Rally Great Britain
Event type: Rally
Location: Great Britain
What is it?
The Rally Great Britain will be the second last before the 2017 World Rally Championship comes to a close. Sebastian Ogier is looking to seal his championship campaign at this rally, as the last round in Australia may prove tricky. Let's find out if he succeeds.
Can you go?
Yes you can, for some soggy weather, fish and chips if you have flight tickets, visa, and passes handy. Or you can sip your English tea at home as OVERDRIVE brings you the race updates from the WRC on a delightful weekend afternoon.
October 27 - 29: Bajaj FLG ride to Periyar National Park
Event type: Motorcycle ride
Location: Cochin, Kerala
What is it?
A weekend ride to the national park that is home to tigers and a significant elephant population, as well as rare lion-tailed macaques, sambar deer, leopards and Indian bison. You will also have a different ride, astride elephants if you make it!
Can you go?
Yes, if you are a Bajaj Avenger owner and quick to register - the ride is this weekend! The ride will cost you Rs 4,500 starting from Cochin, and you will have to pay for the fuel you consume during the ride. The elephant ride is sure to make you 'Feel Like God'. Register here.
October 28 - November 7: Authentic North East Adventure
Event type: Adventure drive
Location: Guwahati, Assam
What is it?
If adventure is your middle name and you love taking the road less travelled, then this drive is for you. Organised by Mahindra Adventure, you and a partner will drive a Mahindra Scorpio or a Mahindra XUV500 from Guwahati in Assam, through the Kaziranga sanctuary, Arunachal and Meghalaya before returning.
Can you go?
Of course, if you can cough up the Rs 2 lakh fee for a team of two, and have ten days off whatever you do to fund your middle name. The event begins from Guwahati on October 28, 2017, and ends on November 7, 2017. Registrations are open at the Mahindra Adventure website.
Registrations Open:
November 18 - 19: TWO / OVERDRIVE track riding school - Level 1
Event type: Track riding training
Location: Kari Motor Speedway, Coimbatore
What is it?
Throttle Wide Open (TWO) is Indias first track riding school, where you will learn the art of riding your motorcycle to the limit in a safe, quick, and smart way from motorcycling gurus including Anand Dharmaraj and our executive editor Shubhabrata Marmar. This Level 1 course teaches you all the basics of riding on a racetrack.
Can you go?
Of course, but you will have to hurry. Registrations are open on the IndiMotard website for only 30 spots in all for the Level 1 Session. The Open Session costs Rs 8,500, while the Level 1 training course will cost Rs 13,500. Bring a motorcycle and an open mind.
November 17 - 19: 2017 Royal Enfield Rider Mania
Action from the trials event at 2016 Royal Enfield Rider Mania
Event type: Motorcyclist gathering
Location: Vagator, Goa
What is it?
Royal Enfield calls it the largest gathering of Royal Enfield enthusiasts, with a few thousand participants every year. There are at least 12 different activities including a custom bike display, dirt track racing, slow race, maze chase, trials, long-distance travel forum, art showcase, a merchandise store, arm wrestling, a riding school, off-road riding school, as well live music and stand-up comedy.
Can you go?
Yes, if riding to Goa for one big party with fellow Royal Enfield riders sounds like your idea of a fun weekend, then by all means! But you will have to register on the Royal Enfield website here, before that.
Later:
November 6 - 12: EICMA 2017
Event type: Motorcycle exhibition
Location: Fiera Milano, Italy
What is it?
The 75th Worldwide Motorcycle Exhibition 2017 also known as EICMA 2017 is where motorcycles come to gain their name in the world, even before they hit the streets. This exhibition is where the motorcycle manufacturers showcase their latest technological marvels on two wheels. It is heaven for anyone with a two-wheeled inclination.
Can you go?
Yes, you can. There is enough time to plan a trip, and you can even convince your family to come along under the guise of an 'Italian getaway'. Thank us later. OVERDRIVE will also be there, so stay updated on the latest launches at EICMA 2017 with us. To know more about the event, see their page here.
Price (Ex-Delhi)
Starts Rs 71.38 Lakhs
Price (Ex-Delhi)
Starts Rs 12.4 Lakhs
Price (Ex-Delhi)
Starts Rs 12.23 Lakhs
Price (Ex-Delhi)
Starts Rs 82,253