Automobile events this week: October 2 - 8
There is so much happening in the world of automobiles. From the launch of the Skoda Kodiaq in India to the international debut of the newest Triumph motorcycles as well as motorsport action from the FomulaOne GP Japan and WRC Rally Spain, as well as a host of upcoming auto shows and events, there is much for you to do. OVERDRIVE helps you stay up to speed with this quick rundown of all things automotive happening from October 2 to 8, 2017:
October 3: Triumph Bonneville Speedmaster, mystery bike launch
Event type: Product launch
Location: Triumph Factory, Hinckley, UK
What is it?
The British motorcycle maker is looking to expand its horizon beyond the pond and launch a proper cruiser motorcycle. Based on the Bonneville Bobber, the Triumph Speedmaster is expected to take on the Harley-Davidsons and the Indians. There is also a second motorcycle to be unveiled at the event, and we suspect it to be a new adventure bike.
Can you go?
Well, Triumph has sent out limited invites. Fret not, OVERDRIVE is going and as always we will bring the updates and details as they happen!
October 4: Skoda Kodiaq launch in India
The Skoda Kodiaq's powertrain and firm suspension should make for good highway cruising as well.
Event type: Product launch
Location: pan-India
What is it?
The Skoda Kodiaq will be the Czech carmaker's flagship SUV in India. The Kodiaq will compete with fellow MQB platform-underpinned Volkswagen Tiguan, and the Hyundai Tucson. It will also be the only seven-seater SUV in its segment, and Skoda's shot at redemption in the SUV category after its last attempt with the Skoda Yeti.
Can you go?
Well, the Skoda Kodiaq will be available at a dealership near you after launch, which is where you could go. To get the latest details on the day of the launch, stay tuned to OVERDRIVE!
October 5 - 8: F1 Japanese GP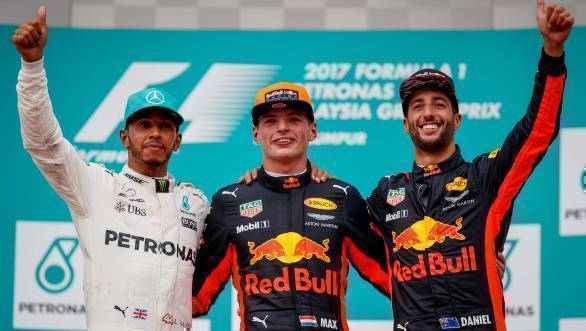 Max Verstappen of Netherlands and Red Bull Racing, second place finisher Lewis Hamilton of Great Britain and Mercedes GP and third place finisher Daniel Ricciardo of Australia and Red Bull Racing celebrate on the podium during the Malaysia Formula One Grand Prix at Sepang
Event type: Circuit Race
Location: Suzuka International Racing Course, Japan
What is it?
The epitome of motorsport, Formula One is turning out to be more dramatic as the 2017 season boils down to the last five races with the next one in Japan. 20-year-old Max Verstappen won the previous Grand Prix in Malaysia last weekend, while Lewis Hamilton leads the Championship with Sebastien Vettel in second spot.
Can you go?
Yes, if you can manage to score passes to the Japanese GP and get visa and tickets by the weekend. Otherwise, stay tuned to OVERDRIVE for live updates on the race. You can also watch the races on Star Sports Select HD channel on TV as well as on the Hot Star Premium App on your smartphone.
October 6 - 8: WRC Rally Spain
Elfynn Evans took second place in the his DMack Fiesta
Event type: Rally
Location: Salou, Catalonia
What is it?
This rally marks the return of World Rally Championship after a six-week break following Rally Deutscheland. The eleventh rally of the season could turn out to be most exciting one as it is the only mixed surface rally on the calendar. This mix of surfaces will test the versatility of the competitors.
Can you go?
Well, with the current situation of Catalonia's referendum to independent statehood as a republic, there may be some challenges to travellers in coming days. However, OVERDRIVE will bring the action to your mobile device or computer as it happens!
October 7 - 8: KTM Track Day and Orange Day
Event type: Track riding experience
Location: Madras Motor Race Track, Chennai; Pune; Delhi
What is it?
What better chance to test your track riding prowess, and get a crash course in pushing yourself and your KTM motorcycle to its limit! National racers will take you around the MMRT in Irungattukottai, Chennai and show you how to choose a racing line among other skills.
Can you go?
Well, it is a KTM event and the Track Day is only for the 390 Duke and RC 390 owners amongst you. For owners of the 200 Duke and RC 200 models, Orange Days have been organised at Pune and Delhi, respectively. So just head to your closest dealership and register.
Registrations Open:
October 7 - 8: Royal Enfield Escapade - Western Ghats
Event type: Overnight ride and camping
Location: Mumbai - Lonavla - Mumbai
What is it?
The first weekend of October will be a great time to ring in winter with a ride, trek, overnight camp, bonfire and barbecue in the beautiful Western Ghats. Even better, you will meet like-minded motorcyclists to share the experience.
Can you go?
Yes, as long as you are a Royal Enfield owner. You take your partner or a friend along and it will cost you Rs 6,000 for a shared tent. If you want to go solo, the registration is priced at Rs 3,000. We recommend you take a friend along to click your next profile picture! Register here.
October 28 - November 7: Authentic North East Adventure
Event type: Adventure drive
Location: Guwahati, Assam
What is it?
If adventure is your middle name and you love taking the road less travelled, then this drive is for you. Organised by Mahindra Adventure, you and a partner will drive a Mahindra Scorpio or a Mahindra XUV500 from Guwahati in Assam, through the Kaziranga sanctuary, Arunachal and Meghalaya before returning.
Can you go?
Of course, if you can cough up the Rs 2 lakh fee for a team of two, and have ten days off whatever you do to fund your middle name. The event begins from Guwahati on October 28, 2017, and ends on November 7, 2017. Registrations are open at the Mahindra Adventure website.
November 24 - 25: India Bike Week
Event type: Motorcyclist gathering
Location: Goa, India
What is it?
Well, to put it mildly, it is the loudest, largest and most fun-filled gathering of bikers in the country if previous editions are anything to go by. A weekend of sun, sand, music and of course, lots of hugging and fist-bumping with fellow bikers. The custom motorcycle competition has been known to bring out some truly beautiful and outrageous creations.
Can you go?
Yes, you can. Whether you want to ride there or fly, there is something for every kind of motorcyclist there, er, except for those who don't like to party. You can register at the India Bike Week page here.
Later:
October 27 - November 5: Tokyo Motor Show 2017
Event type: Auto show
Location: Tokyo Big Sight, Japan
What is it?
Don't you know what Tokyo Motor Show is? It's only the last big Motor Show on the calendar and the best platform for all Asian and other manufacturers to showcase their latest developments, concept cars, and upcoming models. If the recent International Motor Show 2017 (IAA) in Frankfurt, Germany was any indication, expect to see some super sleek electric and hybrid vehicles of the future.
Can you go?
You must, if you like automobiles and sushi as much as we do! Check out the official Tokyo Motor Show 2017 page to know more. We will be there to bring to the latest updates, of course. So stay tuned to OVERDRIVE.
November 6 - 12: EICMA 2017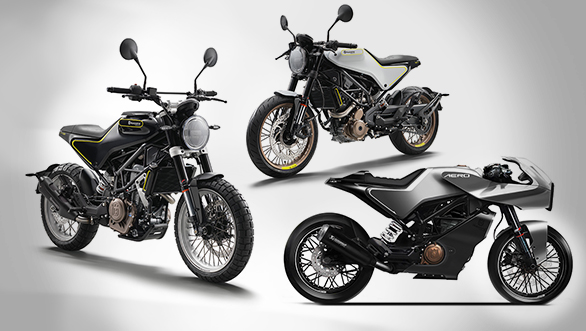 Event type: Motorcycle exhibition
Location: Fiera Milano, Italy
What is it?
The 75th Worldwide Motorcycle Exhibition 2017 also known as EICMA 2017 is where motorcycles come to gain their name in the world, even before they hit the streets. This exhibition is where the motorcycle manufacturers showcase their latest technological marvels on two wheels. It is heaven for anyone with a two-wheeled inclination.
Can you go?
Yes, you can. There is enough time to plan a trip, and you can even convince your family to come along under the guise of an 'Italian getaway'. Thank us later. OVERDRIVE will also be there, so stay updated on the latest launches at EICMA 2017 with us. To know more about the event, see their page here.
Price (Ex-Delhi)
Starts Rs 22.3 Lakhs
Price (Ex-Delhi)
Starts Rs 12.4 Lakhs
Price (Ex-Delhi)
Starts Rs 12.23 Lakhs
Price (Ex-Delhi)
Starts Rs 34.99 Lakhs
Price (Ex-Delhi)
Starts Rs 31.99 Lakhs
Price (Ex-Delhi)
Starts Rs 2,01,000
Price (Ex-Delhi)
Starts Rs 12,15,800
Related Stories