Automobile events this week: November 6 - 12
There is so much happening in the world of automobiles. From the launch of the Suzuki Intruder 150, 2018 Ford EcoSport, Renault Captur, Mercedes-AMG GLA 45 and the Mercedes-AMG CLA 45, to motorsport action from MotoGP and Formula 1, and a host of upcoming auto shows and events including EICMA 2017 there is much for you to know, see, do. OVERDRIVE helps you stay up to speed with this quick rundown of all things automotive happening from November 6 to 12, 2017:
November 6 - 12: EICMA 2017
Event type: Motorcycle exhibition
Location: Fiera Milano, Italy
What is it?
The 75th Worldwide Motorcycle Exhibition 2017 also known as EICMA 2017 is where motorcycles come to gain their name in the world, even before they hit the streets. This exhibition is where the motorcycle manufacturers showcase their latest technological marvels on two wheels. It is heaven for anyone with a two-wheeled inclination.
Can you go?
Yes, you can. There is enough time to plan a trip, and you can even convince your family to come along under the guise of an 'Italian getaway'. Thank us later. OVERDRIVE is going to be there, so stay updated on the latest launches at EICMA 2017 with us. To know more about the event, see their page here.
Launches:
November 6: Renault Captur launch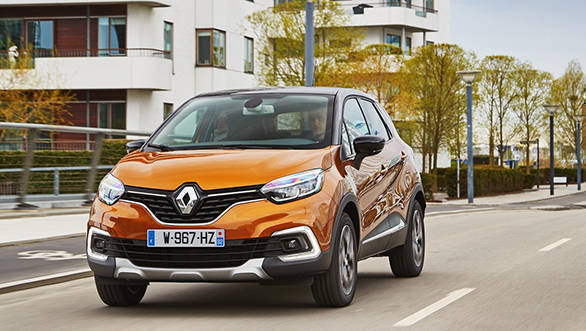 What is it?
The 2017 Renault Captur is based on the Duster's B0 platform. However, the French automobile manufacturer will position the Captur above the Renault Duster in India. The premium SUV for which bookings have already begun at Rs 25,000, will rival the likes of the Hyundai Creta and the Mahindra XUV500. We also believe that if the price difference between the Captur and the Duster is substantial, it will also compete with the recently launched Jeep Compass.
November 7: Suzuki Intruder 150 launch
What is it?
The smallest Intruder in the Suzuki line-up, this 150cc cruiser will bring some competition to the sub-200cc cruiser market in India, which is a segment of one occupied by the Bajaj Avenger at the moment. We recently saw the Intruder 150 undisguised while it was being filmed for a commercial and well, its design will definitely being a discussion point.
November 7: Mercedes-AMG GLA 45 and CLA 45 launch
What is it?
These are facelifted versions of the CLA 45 and GLA 45 models in India. Both these vehicles are the range starters for the performance division of Mercedes-Benz. The 2017 CLA45 and GLA45 will receive a design tweak that makes them sharper than before, and with updated features. The powertrains will remain unchanged from the 2-litre turbo petrol which produces 381PS / 475Nm.
What is it?
Images of the Honda Grazia scooter recently surfaced from what looks like a dealership yard. From these, it can be seen that the Honda Grazia will be a premium offering that might be positioned above the Activa in the scooter line-up. The Honda Grazia should be powered by the same 125cc unit that does duty in the Activa. We also hope that the Honda Grazia will make use of a 150cc mill for the Grazia.
November 9: 2018 Ford EcoSport launch
What is it?
The new EcoSport gets a raft of updates, both on the outside as well as the inside. The most notable changes are the new trapezoidal grille, flanked by new headlights with integrated DRLs. The new EcoSport will also feature redesigned front and rear bumpers and a new cover for the spare wheel. The interiors too have been given a refresh and it looks quite contemporary. The most significant update, however, is the new 8-inch touchscreen infotainment system with Apple CarPlay and Android Auto.
November 9 - 12: F1 Brazilian GP
Lewis Hamilton won the 2017 United States Grand Prix
Event type: Circuit race
Location: Autodromo Jose Carlos Pace, Sao Paulo
What is it?
The 2017 season of the epitome of motorsport, Formula 1, has been high on drama. With only two races left in the season, the F1 Brazilian GP will provide plenty of racing action for motorsport enthusiasts. While it had seemed like Championship leader Lewis Hamilton might clinch the title in the previous round at Mexico, Max Verstappen sprang a surprise to lead Hamilton and Sebastian Vettel through the race.
Can you go?
Yes, if you can manage to score passes to Brazil and get visa and tickets by the weekend, and love the Samba and beaches as much as we do. Otherwise, stay tuned to OVERDRIVE for live updates on the race. You can also watch the races on Star Sports Select HD channel on TV as well as on the Hot Star Premium App on your smartphone.
November 10 - 12: MotoGP Valencia
Andrea Dovizioso won the previous race in Sepang, Malaysia
Event type: Circuit race
Location: Sepang International Circuit
What is it?
The MotoGP Valencia will be the last race of the season, and a bag full of surprises, this season has been. The previous race in Sepang, Malaysia was .
Can you go?
Yes, you can if you can get passes to the race and a visa as well as flight tickets for this weekend. Alternatively, stay tuned to OVERDRIVE as we will be there to bring you live updates straight from the pit lane on race day!
Registrations Open:
November 18 - 19: TWO / OVERDRIVE track riding school - Level 1
Event type: Track riding training
Location: Kari Motor Speedway, Coimbatore
What is it?
Throttle Wide Open (TWO) is India 's first track riding school, where you will learn the art of riding your motorcycle to the limit in a safe, quick, and smart way from motorcycling gurus including Anand Dharmaraj and our executive editor Shubhabrata Marmar. This Level 1 course teaches you all the basics of riding on a racetrack.
Can you go?
Of course, but you will have to hurry. Registrations are open on the IndiMotard website for only 30 spots in all for the Level 1 Session. The Open Session costs Rs 8,500, while the Level 1 training course will cost Rs 13,500. Bring a motorcycle and an open mind.
November 17 - 19: 2017 Royal Enfield Rider Mania
Event type: Motorcyclist gathering
Location: Vagator, Goa
What is it?
Royal Enfield calls it the largest gathering of Royal Enfield enthusiasts, with a few thousand participants every year. There are at least 12 different activities including a custom bike display, dirt track racing, slow race, maze chase, trials, long-distance travel forum, art showcase, a merchandise store, arm wrestling, a riding school, off-road riding school, as well live music and stand-up comedy.
Can you go?
Yes, if riding to Goa for one big party with fellow Royal Enfield riders sounds like your idea of a fun weekend, then by all means! But you will have to register on the Royal Enfield website here, before that.
Nov 22 - 26: Bajaj FLG ride to Goa
Event type: Motorcycle ride
Location: Goa
What is it?
A weekend ride to the party capital of the country. However, this ride will take you through the lesser-known heritage sites of Old Goa, temples and culture that have made Goa what it is. Overnight camping and treks to waterfalls will round up the trip!
Can you go?
Yes, if you are a Bajaj Avenger owner and quick to register! The ride will cost you Rs 9,000 starting from Pune, Mumbai or Bengaluru, and you will have to pay for the fuel you consume during the ride. Register here.
Price (Ex-Delhi)
Starts Rs 7.99 Lakhs
Price (Ex-Delhi)
Starts Rs 9.99 Lakhs
Price (Ex-Delhi)
Starts Rs 17.79 Lakhs
Price (Ex-Delhi)
Starts Rs 12.23 Lakhs
Price (Ex-Delhi)
Starts Rs 9.5 Lakhs
Price (Ex-Delhi)
Starts Rs 8.49 Lakhs
Price (Ex-Delhi)
Starts Rs 82,253
Price (Ex-Delhi)
Starts Rs 73,912
Price (Ex-Delhi)
Starts Rs 1,20,000